Headbanging video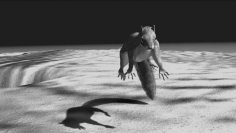 source: vimeo
Made at Ecal / University of art & design Lausanne Switzerland.
Each of the 12 students of the Media & Interaction design unit was asked to make three 3D animation sequences, following a commun project developed by our guide teacher.
After that, the idea was to make a video using the whole material produced or juste a sample of it.
I made the colored mountains, tunnel and this montage :).
Sebastian Vargas / Ecal 2013
sound postproduction / Javier Iván Pérez
.
.
.
.
.
.
source: kairosworksnet
→ KAIROS is an independent & collaborative studio based in Switzerland and Chile.
It was established in 2007 in the city of Buenos Aires by Sebastian A. Lopez and Zahra Vargas, its current directors and founders.
Kairos has creative ventures in Chile, Switzerland, Buenos Aires, and Barcelona, with a special focus on creative video, animation, documentary video, photography, web development, and creative-business advisory services.
→ Recognition.
2012. International competition at First Motion Design Festival Cyprus
2011. One Dot Zero Festival Zurich, Switzerland
2011. International Art Exhibition TET A TET Vevey Switzerland
2011. Documentary competition Film Festival Rosario Argentina
2011. International Documentary competition Fidocs Film Festival Santiago Chile.
2011. International competition Cine B Film Festival Santiago Chile.
2011. Publish on Stash magazine Nº77 together with our project Bounce made with smog.tv
2011. Finalist VideoClip Festival Santiago Chile.
2011. International Competition Cannes Lions International Festival of Creativity France
2011. International Competition Wave festival Rio de Janeiro Brasil
2011. International Competition El SOL Festival iberoamericano comunicación publicitaria Spain
2010. Selected Sanfic Film Festival Santiago Chile
2010. Selected Fidocs Film Festival Santiago Chile.
2009. Selected Images Festival Vevey Switzerland.
2008. Selected Valparaiso Film Festival. Valparaiso Chile.
→ Awards
Enviromental Contribution 2009 (Terram Foundation)
Enviromental Contribution 2010 (Terram Foundation)
Grand Prix Media Achap 2010 (Chilean Association of Advertising Agencies)
Gold Best use of enviroment Achap 2010
Gold Especial Events Category Achap 2010
Gold Public Good Category Achap 2010
Best ad campaign running on social networks WAW 2010
Gold Wave Latino festival of comunication 2011
Gold on Direct Wave 2011 BRASIL
Bronze on integrated Wave, Brasil 2011
Honorific mention Finalist Festival of VideoClip 2011 Chile.
.
.
.
.
.
.
.
source: saatchionline
I was born in 1980 in Viña del Mar, Chile, but I have developed my artwork mostly in Santiago, Chile .
Between 1999 and 2003 I studied Fine Arts at Finis Terrae University in Santiago, Chile, majoring in Sculpture.
I experiment with a wide range of styles, subjects, materials, and mediums, producing a vast body of work that is consistently experimental and artistically diverse. This is also evident in each of my paintings through the accumulation of an array of different technics within one canvas.
My paintings hold a constant dialogue between graphics, painting, and photograph. These three elements operate as a platform that contains and displays the multiple layers of images present in my work. Informed by advertisement, mass media, and the everyday visual environment that surrounds me, my body of work unfolds as an album, an archive, a binnacle of all my visual quirks, that contains an unsettling vision about the specific themes that exist in each of my paintings.
Throughout my eclectic creative process, I always maintain an interest in iconography and the manipulation of random imagery. I recollect art clips, logos, vector images, and illustrations from the Internet that I then transfer to different mediums creating a vibrant layering of found images.
Mainly acrylic on canvas and paper, behind my paintings exists a process of previous digital manipulation through which the actions of recollection, selection and alteration of images generate a fast, direct and immediate thematic assimilation. In this process I work with silkscreen as the main technic for image transfer as it accommodates to my dynamic, fast and intuitive working pace.
The layering is also present in the texture and materiality of my work which refers to the very act of painting: the filling, the veil after veil, the material wear, the corrosion and the pass of time, the errors; all of which denounces an atmospheric pictorial quality that moves from graffiti to abstract expressionism.
Through digital image manipulation, silkscreen, and painting, I try to transcend the medium and create multi-layered narratives that allows multiple interpretations.
I have participated in several exhibitions, such as his first individual exhibition in Lo matta Cultural Center in Santiago of Chile in 2001 , "Custom Made" in Cecilia Palma Gallery, Santiago (2006), the exhibition series "God, Ship, and the mutiny" in None Galleri, Dunedin, New Zealand (2007),"Make it go away" in Cross Street Studios, Auckland, New Zealand (2007), "Gamma" in Galeria Moto, Santiago (2008), "(Universal) art is no object" in Local Project, New York (2010), "Attention Spam" in Centro Cultural Borges, Buenos Aires (2010), and "Laboratory" in the Culture Ministry of Valparaiso, Chile (2010).
SebastianVargas is from Santiago Chile. He studied art in the Finis Terrae University of Chile, graduating with a degree in printing and sculpture in 2002. Since this Sebastian has shown his work in the most important galleries, cultural centers and Universities of Santiago and overseas Sebastians work is a mix of logo and photographic images (illustration and comic) Using paint and silkscreen techniques. Sebastian works on paper, canvas and diferents surfaces.
.
.
.
.
.
.
source: momaps1org
Between 1999 and 2003 I studied Fine Arts at Finis Terrae University in Santiago, Chile. Majoring in sculpture.
I have participated in many solo and group exhibitions in differents galleries, centers and universities in Chile and abroad
I received a few awards that have allowed me to solve my artistic career
I have served as a teacher of graphics and screen printing in differents art schools and I recently build the silkscreen workshop in the School of Art and Design at Universidad Mayor of Chile.
I have made 4 art recidences in various institutions in Chile, New Zealand, Thailand and New York
I am currently a full time artist, and I live in Brooklyn ,New York.