Шона Смита
Albino Alligator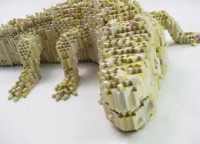 source: coffeebreak-blogde
Was Shawn Smith mit seinen Pixeltieren tut, ist eigentlich eine Art Anti-Trend. Anstatt traditionell tatsächlich physikalisch vorhandene Objekte in 3D auf dem Computer umzusetzen, geht er genau den entgegengesetzten Weg – aber nicht ganz. Seine Pixeltiere wirken auf den ersten Blick tatsächlich so, als bestünden sie einfach aus einer Vielzahl großer Pixel – ein bisschen so, als wären sie der Welt von Minecraft entsprungen. Dabei bestehen sie aus Balsaholz und wurden von Smith in feinster Handarbeit herausgeschnitten, gefärbt und zusammengefügt. Er nennt seine Objekte "Re-Things" und sagt:
"Während der letzten Jahre habe ich eine Serie von "Re-Things" geschaffen. Diese bescheidenen Figuren repräsentieren pixelige Tiere und andere Objekte aus der Natur. Dabei interessieren mich am meisten die Dinge, die ich im wahren Leben noch nicht gesehen habe. Ich suche mir meine Objekte online und erstelle dann dreidimensionale Skulpturen als Repräsentationen ihrer zweidimensionalen Abbilder. Ich baue meine Re-Things Pixel für Pixel, um zu verstehen, wie jedes einzelne von ihnen eine entscheidende Rolle für die Entstehung des Objektes insgesamt spielt. Durch die Pixelation wird die Anzahl der Farben beschränkt, es geht Information verloren und die Form wird abstrahiert. Ich sehe das Ganze als Experiment an: Das unmögliche möglich zu machen. Dabei verwende ich künstliche und recycelte Materialien zur Spiegelung natürlicher Formen."
.
.
.
.
.
.
source: bewooding
虚拟与现实的结合,成为当下设计师取之不尽的灵感源泉。来自英国的装置艺术家Shawn Smith,刻意使用带有显示屏色彩的像素块拼成了各种动物,打破二维与三维的界限
.
.
.
.
.
.
source: shawnsmithart
Shawn Smith was born in 1972 in Dallas, TX where he attended Arts Magnet High School and Brookhaven College before graduating from Washington University in St. Louis, MO with a BFA in Printmaking in 1995. Smith received his MFA in Sculpture from the California College of the Arts in San Francisco in 2005. He has received artist-in-residencies from the Kala Art Institute in Berkeley, CA and the Cite Internationale des Arts in Paris, France. In 1996, Smith was a recipient of the Clare Hart DeGolyer grant from the Dallas Museum of Art. Smith's work has been exhibited at Hå Gamle Prestegard, National Art and Culture Center of Norway, and throughout the United States including the Austin Museum of Art, Arthouse at the Jones Center (Austin), Galveston Art Center, Yerba Buena Center for the Arts (San Francisco), Southern Exposure (San Francisco), Oakland Arts Museum, Berkeley Art Center, Richmond Art Center, di Rosa Art and Nature Preserve (Napa), Dean Lesher Center for the Arts (California), Holter Museum of Art (Montana), Northwest Art Center (North Dakota), Lawndale Art Center (Houston), Guerilla Arts (Dallas), Wichita Falls Museum of Art, the Armory Art Center (Florida), Scion Installation Center (Los Angeles), the Grace Museum (Abilene, TX) and the McKinney Avenue Contemporary (Dallas), among others. In 2006, he was commissioned to create a monumental public sculpture in San Francisco, CA. In 2012, his work will be included in "40 Under 40: Craft Futures" at the Smithsonian American Art Museum's Renwick Gallery. Smith currently resides in Austin, Texas.
Work
My work investigates the slippery intersection between the digital world and reality. Specifically, I am interested in how we experience nature through technology. When we see images of nature on TV or on a computer screen, we feel that we are seeing nature but we are really only seeing patterns of pixelated light.
For the past few years, I have been creating a series of "Re-things." These whimsical sculptures represent pixelated animals and objects of nature. I find images of my subjects online and then create three-dimensional sculptural representations of these two-dimensional images. I build my "Re-things" pixel by pixel to understand how each pixel plays a crucial role in the identity of an object. Through the process of pixelation, color is distilled, some bits of information are lost, and the form is abstracted. Making the intangible tangible, I view my building process as an experiment in alchemy, using man-made composite and recycled materials to represent natural forms.
In my building process, I start with a full sheet of material like plywood or MDF and cut it into 1/2″ strips of varying lengths–typically 1/2″ to 2′ long. I then hand dye each strip of wood individually with dyes mixed from ink and acrylic paint. I mix each color by hand to create a huge palette of colors in order to give the sculpture more depth and visual interest before assembling the object.
My conceptual and material practice explores identity, color, labor, technology, and science. As an object maker, I am interested in relating these concepts back to the symbiotic connection between the hand and the "thing." This relationship is a basic principle in the development of the modern human–biologically, technologically, culturally, and scientifically. I am fascinated by the importance of the "thing" in our history and how this relationship is changing with technology, as we become more removed from first hand experience by observing the world through a screen.
.
.
.
.
.
.
.
source: huffingtonpostcouk
The brief lifespan of video games has been one of extraordinarily rapid advancement, particularly in terms of graphics.
If a comparison can be made to the art world then computer games have travelled from crude cave drawings, through the Renaissance, landing somewhere around Realism in a relative blink of an eye since they first appeared in the late 50s.
These wooden sculptures by artist Shawn Smith pay homage to a period in the mid 80s when computer graphics actually had more in common with a kind of Pointillism – if you were to use a square paint brush; the pixilated fires, monsters and animals gaming veterans will associate with early consoles like the ZX Spectrum or Commodore 64.
"Video games are an inspiration," Smith admits, "But so is the fact I really don't know much about the natural world."
"What I do know, I really only know through a screen. I grew up in Dallas, Texas. It is a big city without that many places to go camping. I have never seen a real campfire. I have never spent the night under the stars in a sleeping bag.
"These sculptures are about how much of the world is understood through some type of coded digital translation/re-translation rather than direct experience.
Albino Alligator, one of Smith's pixel sculptures
"What happens to an object or experience when information is lost, colours are distilled?"
40-year-old Smith holds a masters degree in sculpture from California College of the Arts in San Francisco, and has been widely exhibited around America. This year, his work will be shown as part of a large show at the Smithsonian American Art Museum's Renwick Gallery.
"I think the work has engaged people in and outside of the art world. I get very interesting responses from people who work in the technology, computers, video games. I think the subject matter has a universal appeal that a lot of people can relate to" he says.
After 7 years exhibiting in his own country, Smith now plans to try expand elsewhere.
"I am about to have my first solo show of this work in Europe. I am hoping to have more of a presence in Europe, Asia, the world!"
Perhaps, somewhere along the way, he'll get a chance to camp out under the stars.
.
.
.
.
.
.
.
source: weezbo
This painter and sculptor from Texas creates sculptures of animals in the form of modular shapes. Shawn Smith's creation is known not only in North America but also around the entire world. His work is original and unusual.
As stated by the author, looking at the animal images on TV or a computer monitor, we see a color picture, and not the real animals. That's why Shawn Smith decided to create a series of pixelated sculptures of animals. Shawn was born in 1972, in Dallas. He received his education at the University of Washington in St. Louis and at the College of Arts in San Francisco. The author sculptures are not inspired by real animals; he uses digital images, which are transformed into three-dimensional pixel images, which later become sculptures.
.
.
.
.
.
.
.
source: huffingtonpostcouk
This Shawn Smith art is truly imaginative and takes pixelation to a 3D graphic dimension.
His latest works are an extension of his previous work and feature a new batch of animals. Smith transforms his figures of nature with ease. The animal sculptures pop out at you and are magnificent vivid creations. To manifest these lovely art works Smith meticulously takes digital images and assembles the sculptures block by block. This is a tedious process that he completes with exact precision. Each block is seamless and when set against a stark white wall appears to be miraculously floating. His methods are structured, his ideas are wonderful and his process is flawless.
The Shawn Smith art is spectacular and forms a link between nature and technology.
.
.
.
.
.
.
.
source: re-actornet
Художник и скульптор из Техаса создает скульптуры животных в виде блочных фигур. Творчество Шона Смита (Shawn Smith) известно не только в Северной Америке, но и по всему миру. Его работы оригинальны и необычны.
Как заявляет сам автор, рассматривая изображения животных на экране телевизора или мониторе компьютера, мы видим лишь цветную картинку, а не реальных обитателей природы. Именно поэтому у Шона Смита (Shawn Smith) и возникло желание создать серию пиксельных скульптур животных. Шон родился в 1972-м году в Далласе. Образование получал в Университете Вашингтона, что в Сент-Луисе, а затем в колледже искусств Сан-Франциско. Автор не созерцает животных живьем, он использует цифровые изображения, которые преобразует в объемные пиксельные изображения, которые и становятся впоследствии скульптурами.
.
.
.
.
.
.
.
source: masivamag
Shawn Smith hace varios años ha estado creando una serie de esculturas de animales pixelados que actualmente se encuentran en una exhibición en la Craighead Green Gallery en Dallas, Texas. Smith trabaja sus obras con madera, bajo meticulosos cortes y tintes.
.
.
.
.
.
.
source: mukkamu
Sculture creative realizzate dall'artista americano Shawn Smith, con delle barrette di compensato.
Ispirato da foto che trova su internet è in grado di rappresentarle in 3D pixel per pixel.