the cave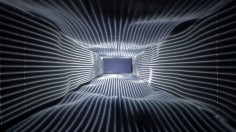 source: vimeo
The Cave is a a back-projection mapping installation, done for the Creative Review Annual launch party at Village Underground in London.
The unusual canvas is a suspended laser cut cast acrylic pyramid covered with a frost film. We wanted to explore how the perception of the viewer can be bent when a small room become an infinite corridor.
.
.
.
.
.
.
source: vjstv
The Cave is a a back-projection mapping installation, done for the Creative Review Annual launch party at Village Underground in London.
The unusual canvas is a suspended laser cut cast acrylic pyramid covered with a frost film. We wanted to explore how the perception of the viewer can be bent when a small room become an infinite corridor.
Done by Nicola Gastaldi in The Studio at Smoke & Mirrors.
.
.
.
.
.
.
.
source: smoke-mirrors
Smoke & Mirrors is a highly creative and dedicated visual effects and postproduction company, providing international excellence, innovation and expertise for the advertising, film and music video industries.
Established in 1996 as the original post boutique, Smoke & Mirrors has since consistently delivered exciting, visually stimulating and contemporary work.
With extensive offices in London, New York and Shanghai, Smoke & Mirrors has a superb reputation, which is recognised worldwide through our many awards and commendations.
We offer a full post production service from shoot supervision, TK, CGI, 2D to all the many deliverables, priding ourselves on taking artistic creativity and turning it into a visual reality whilst looking after our clients every step of the way.