Repressed Spaces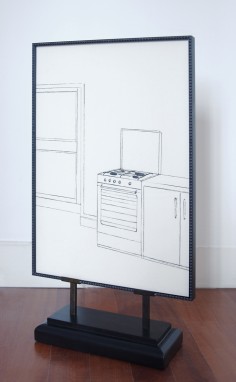 source: artsper
Stéphanie Nava est née en 1973 et a fait ses études aux Beaux-Arts de Valence. Elle travaille aujourd'hui entre Paris, Marseille et Milan.
Le dessin occupe une place centrale dans le travail de Stéphanie Nava, aux côtés de sculptures-objets, de photographies et d'installations. Son travail s'attache à décrire des relations, qu'elles soient architecturales, linguistiques, sociales ou sentimentales. Privilégiant des questions liées à l'appropriation de l'espace et sa domestication, Stéphanie Nava s'intéresse à la manière dont un individu ou une société façonne son rapport au monde.
Concédant une grande place à l'idée d'échange et aux mots – unités minimales de sens du langage, dans un travail résolument plastique, Stéphanie Nava réalise parfois des œuvres à partir de l'étymologie ou de la puissance de résonance et d'évocation personnelle de certains mots et de certaines phrases.
Stéphanie Nava a été lauréate de la bourse Villa Médicis Hors les Murs en 2005.
.
.
.
.
.
.
.
source: aptglobalorg
Stephanie Nava (b.1973 Marseille, France) lives and work in Marseille and Paris. From a basis in drawing, Stephanie Nava has developed a hybrid practice utilizing installation, photography and, on occasion, animation and video. Her work is concerned with relationships, engagements and encounters with the outside world and shaping of situations by the gestural, historical and spatial. It reveals coincidences and conjunctions, staging situations that define specific processes.
Selected recent exhibitions include MOCAD, Detroit; Viafarini DOCVA, Milan, Italy; Galleria Riccardo Crespi, Milan, Italy; Centre d'Art Contemporain Passerelle, Brest, France; Centre d'Art Contemporain de la Ferme du Buisson, Marne-La-Vallée, France; CCC, Tours, France; CAC, Malaga, Spain; Galleria Neon, Bologna, Italy and Galerie Claudine Papillon, Paris, France. She is represented by Galleria Riccardo Crespi, Milan.
"Les Implications Amoureuses" is a series of drawings that depicts couples in a specific moment of their love story. The figures of men and women who 'meet' around objects are generic, their specificity lying in their body language. They are held together in the sheet of paper by the uninterrupted charcoal line, yet being linked as much as separated by the mediating object between them.
.
.
.
.
.
.
.
source: artsper
Stéphanie Nava was born in 1973 and has studied at the Beaux-Arts in Valencia. She works today between Paris, Marseilles and Milan.
Drawing occupies a central place in the work of Stéphanie Nava, alongside sculptures-objects, photographs and installations. Her work focuses on describing relationships, whether they are architectural, linguistic, social or sentimental. Focusing on the issues related to the ownership of the space and its domestication, Stéphanie Nava is interested in the way in which an individual or a society shape their relationship with the world.
Leaving an important place to the idea of dialogue and to words – minimal units of meaning of the language, in a resolutely plastic practice, Stéphanie Nava produces sometimes works that have as a starting point the etymology or the resonance and personal suggestive power of some words or phrases.
Stéphanie Nava was the winner of the Villa Medici "Off Site" scholarship in 2005.