Akihito Ito + Issey Takahashi
FILE FESTIVAL 2018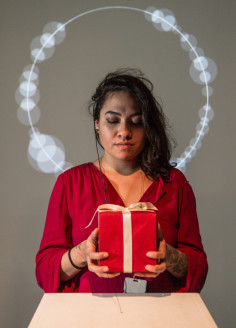 source:fileorgbr
A emoção é difícil de ser descrita. Facilmente sai de foco quando é verbalizada, a emoção sentida em nosso corpo é abstraída quando se torna palavra. O objetivo de nosso trabalho experimental é compartilhar com as pessoas a emoção, que não pode ser expressa por palavras, induzindo a sincronização do batimento cardíaco, fenômeno que ocorre quando uma batida é sincronizada ao mesmo ritmo, em sintonia com a de outra pessoa. "SyncDon II" é uma instalação audiovisual que registra o ritmo dos batimentos cardíacos do usuário e os guarda em uma caixa embrulhada para presente que pulsa a ritmos gravados. O usuário é equipado com fones de ouvido especialmente concebidos para o sensor, que lê as ondas de batimento enquanto segura nas mãos a caixa pulsante, sentindo a batida da pessoa que esteve ali antes dele. A pulsação da caixa e o próprio coração do usuário são visualizados em um monitor digital, onde cada batimento, vista como pequenos círculos, é exibido em tempo real, chegando a sincronizar com o batimento do usuário anterior. Desta forma, os dois círculos se fundem em um, espelhando a sincronização que ocorre no corpo naquele exato momento. A sincronização é induzida não apenas pelo som, mas por estímulos visuais como flashes de luz sincronizada às batidas e à sensação tátil ao segurar a caixa pulsante.
A experiência da "SyncDon II" resulta em alterações circulatórias no corpo conforme se adapta ao novo ritmo. A experiência da instalação pode causar respostas emocionais inesperadas que também afetam a variação da frequência cardíaca e, portanto, são registradas. A caixa de presente, usada como um indicador do batimento cardíaco, é a metáfora de um "Presente". Um receptor recebe a emoção como presente de alguém do passado através dos batimentos cardíacos. Consequentemente, o receptor torna-se um emissor da emoção que sentiu e a oferece aos outros. A sincronização leva não apenas à combinação com os ritmos do corpo, mas à empatia, à capacidade de partilhar a vida emocional do outro, de sentir o que eles sentem.
Akihito Ito + Issey Takahashi é um grupo de mídia e arte de Nagoya, Japão. Seu trabalho experimental visa explorar a comunicação humana sem fronteiras, através de fenômenos de sincronização fisiológica.
Akihito Ito é artista multimídia e designer, seus interesses incluem mídia e arte, videoarte, instalação e design gráfico; é professor da Universidade de Arte de Nagoya e pesquisador na Escola de Design e Arquitetura, da Universidade da cidade de Nagoya.
Issey Takahashi é designer científico e artista multimídia. Seus interesses incluem mídia e arte, interatividade humano-computador e engenharia biomédica. Atualmente é Professor adjunto, nomeado no Instituto de Biomoléculas Transformadoras da Universidade de Nagoya. Uma de suas obras representativas, "SyncDon II", foi exposta na SIGGRAPH Asia 2015, ISEA2016, Currents New Media 2016 e na XI Reunião Anual da Rede de Cidades Criativas da UNESCO em 2017.
.
.
.
.
.
.
.
source:fileorgbr
Emotion is hard to be depicted. It easily gets unfocused when it is verbalized, because emotion felt in our body is abstracted when it becomes a word. The aim of our experimental work is to share emotion, which cannot be expressed by a word, with others by inducing heartbeat synchronization, a phenomenon that occurs when a heartbeat syncs to the same rhythm in sympathy with that of another. "SyncDon II" is an audiovisual installation that records the rhythm of user's heartbeat and collects it in a gift-wrapped box that then pulsates with the recorded beats. The user is outfitted with specially designed headset sensor that reads pulse waves while he/she holds in their hands the pulsating box, feeling the beat of the person who was there before them. The heartbeat in the box and the user's own heartbeat are visualized in a digital display monitor, where each heartbeat, seen as small circles, is depicted in real time, coming into synchronize with one another. As they do, the two circles merge into one, mirroring the actual syncing occurring inside the body at that very moment. The syncing is induced not just by sound but by visual cues as well, such as flashes of light timed to the beats, and the tactile sensation of holding the throbbing box.
"SyncDon II" experience results in circulatory changes in the body as it acclimates to a new rhythm. Participating in the installation can bring about unexpected emotional responses that also affect heart rate variability and, thereby, get recorded, too. The reason why the gift-box is used as an indicator of the heartbeat is because it is a metaphor of a "Gift." A receiver gets emotion as a gift from someone in the past through heartbeats. Then the receiver becomes a sender of an emotion he/she had and gives to others. The synchronization leads not just to match the rhythms of the body, but to empathy, the ability to share in the emotional life of another, to feel what they feel.
Akihito Ito + Issey Takahashi is a media art group working in Nagoya, Japan. Their experimental work aims to explore borderless human communication by using physiological synchronization phenomena.
Akihito Ito is a media artist as well as a designer. His interests include, media art, video art, installation, and graphic design. He is currently a lecturer at Nagoya University of Arts as well as a researcher at School of Design and Architecture, Nagoya City University.
Issey Takahashi is a science designer as well as a media artist. His interests include media art, human-computer interaction, and biomedical engineering. He is currently a Designated Assistant Professor at Institute of Transformative Bio-Molecules, Nagoya University. One of their representative works, "SyncDon II", has been exhibited in Siggraph Asia 2015, ISEA 2016, Currents New Media 2016, and The XIth Annual Meeting of the UNESCO Creative Cities Network in 2017.