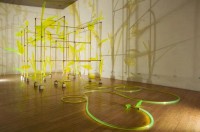 source: sicardi
Thomas Glassford was born in 1963 in Laredo, Texas. Glassford received his BFA from the University of Texas at Austin. In 1990, he moved to Mexico City. Glassford uses everyday materials to create architectural or installation-scale works. Having used diverse objects –from gourds and used broomsticks to mirrors and fluorescent light– Glassford has most recently used anodized aluminum molded siding. Both decorative and alluring, these industrial materials are transformed into rhythmic images reminiscent of Minimalist sculpture and Op Art painting of the 1960s.
Select solo exhibitions include: Xipe Totec, Centro Cultural Universitario Tlatelolco, UNAM, Mexico City, Mexico (2010); Afterglow, Museo Experimental El Eco, Mexico City, Mexico (2010); Cadaver Exquisito, el Museo Universitario de Ciencias y Artes (MUCA) UNAM (2006), La Torre de los Vientos, Mexico City DF (2001) and Museo de Arte Contemporáneo, Oaxaca (1996). Solo exhibitions include: Select group exhibitions include: Tlatelolco and The Localized Negotiation on of Future Imaginaries, Museum as Hub, New Museum, New York, New York (2008), Second Lives, Museum of Arts and Design, New York, New York (2008), Constructing a Poetic Universe: The Diane and Bruce Halle Collection of Latin American Art, The Museum of Fine Arts, Houston, Texas (2007), Los Angeles/Mexico Complejidades y Heterogenidad, La Colección Jumex, Mexico DF (2006), Made in Mexico, The Institute of Contemporary Art, Boston, Massachusetts, Hammer Museum, Los Angeles, California (2004), Mexico: Identidad y Ruptura, Fundación Teléfonica, Madrid, Spain (2003), La persistencia de la imagen, Museo de Arte Carrillo Gil, Mexico D.F. (2001), Cinco Continentes y una Ciudad, Museo de la Ciudad, Mexico (2000), InSite (1997, 2005), Havana Biennial (1994 and 1997. Select permanent collections include: Museum of Fine Arts, Houston, Texas; Televisa Collection, Mexico DF; Gelman Collection, Mexico DF; La Colección Jumex, Mexico; The Bruce and Diane Halle Collection, Phoenix, Arizona; Collezione "La Gaia," Italy; Montblanc International Collection; CIFO Foundation, Miami, Florida; Jerry I Speyer Collection, New York, New York; Vergel Foundation, USA; Neeley Collection, USA; Associaçao Beneficente Alzira Denise Hertzog da Silva, Brazil; Colección Valdemarín, Madrid, Spain and Museo Extremeño e Iberoamericano de Arte Contemporáneo, Bajadoz, Spain.
Thomas Glassford currently lives and works in Mexico City, Mexico.
.
.
.
.
.
.
.
source: museumashuborg
Born 1963, Laredo, Texas/Lives and works in Mexico City
Thomas Glassford's early sculptures were based on local and natural materials (dried gourds, leather, wood), but he has increasingly turned to more industrial and urban materials. Some are found, such as embossed vinyl or plastic tableware, while others are modified, like the anodized aluminum siding used architectonically for gates and doorways. He uses these to create rhythmic wall reliefs referring to the city while partaking in a dialogue with the vocabulary of minimalist painting and modernist architecture. Select solo museum exhibitions include "Cadáver Exquisito," Museo Universitario de Ciencias y Artes, Mexico City (2006); Museo Carrillo Gil, Mexico City; and "Event Horizon," Laboratorio Arte Alameda, Mexico City (2003). Glassford has participated in numerous group exhibitions including InSITE'05 and InSITE'97, San Diego/Tijuana; "Erotic," Centro Cultural Banco do Brasil, São Paulo and Brasilia; "Eco. Arte Mexicano Contemporáneo," Museo Nacional Centro de Arte Reina Sofía, Madrid, Spain (2005); "Made in Mexico," Institute of Contemporary Art, Boston, and UCLA Hammer Museum (2004); and "Operativo," Museo Rufino Tamayo, Mexico City.
.
.
.
.
.
.
.
source: 34st
At the Moore College of Art & Design, I entered a gallery in flux. There, installationist Thomas Glassford's exhibition, Afterglow, was being assembled. Neon–green Plexiglas tropical leaves hung off golden aluminum rods. They were laid out on the gallery floor, still in half–opened boxes. From its partially installed state, I was able to discern that the final product would resemble an industrial–garden–jungle–gym of sorts, allowing the onlooker to not only observe the installation from afar, but also to stroll through the structure, immersing himself in a glowing futuristic jungle.
Walking through the constructed environment offered the comfort of a serene forest, punctuated by the aggressive verticality of the aluminum rods. Glassford has created a world in which the organic is only an artificial atmosphere, in which nature has been replaced by industrial materials. Such hybridization of nature and industry is the staple theme of Glassford's work and is a notion he makes particularly tangible in Afterglow's experiential nature.
Through denseness of the fauna, the nature of Mexico City, Glassford's hometown, assumes a role in this exhibition, visible in the concrete stands that hold the golden aluminum rods. Glassford previously exhibited Afterglow at the Museo Experimental El Eco, making this the first U.S. debut of the modern minimalist sculptural installation.