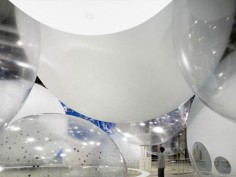 source: dezeen
Tokyo practice Torafu Architects have created a pavilion filled with inflated, plastic balls inside a warehouse on the Shinko Pier in Yokohama, Japan. The project was conceived for automotive company Nissan to display their PIVO 2 electric car. The sixteen bubbles measuring between 4.5 and 10 metres in diameter have images projected onto their surfaces and contain pieces of paper with messages from visitors written on them. The car is displayed in a central enclosure that is furnished with seating made of concertinaed paper.
The NISSAN Y150 Dream Front pavilion was designed as part of the EXPO Y150 initiative commemorating the 150th Anniversary of the Opening of the Port of Yokohama. Located in a warehouse on the Shinko Pier, the Nissan Motors PR project spanned two areas focusing on the theme of children and the environment; "Word Park" and "Pivo Labo". "Word Park" is a large exhibition space that houses 16 giant bubbles ranging from 4.5m to 10m in diameter where 1 million messages are expected to fill them; whirling and dancing around as blue leaves. These bubbles give the surrounding space its physicality, inviting visitors to playfully navigate through it. Incidentally, the spheres touch at certain points, supporting each other and creating a feeling of tension. Virtual images projected on the 0.5mm thin membranes come to life on the round surfaces giving them the aspect of solidity. Natural light coming down from skylights passes through layers of transparent and opaque membranes; casting and distorting shadows of visitors moving between the spheres and giving the whole space its tone and atmosphere in a hazy mix of projected shapes and shapeless forms. We sought to give the pavilion an ever-changing enchanted atmosphere with its many reflected images and to eliminate the tributary relationship between ground and figure represented here by the open space and spheres respectively. Kids' seats in "Pivo Labo" are made of recycled paper honeycombs echoing the concept used in "Word Park" where a compact object filled with air populates a larger area. (Above image by Torafu Architects.) Stemming from Nissan's vision for a future with clean air, our concept aimed to create a generous form of expression by allowing light and signs of presence to permeate the surroundings and by using air as a material itself.
.
.
.
.
.
.
.
.
source: torafu
TOKYO DESIGNERS WEEK2011における、 TOTOの「水を大切にする」思想を表現した、 「水」を使わずに、「水面」をインタラクティブに体感できる展示ブースの提案。 水は形態を留めることなく常に動いている。 純粋にそのふるまいの面白さや、 美しい現象を取り出して、 感覚的に水を感じられる空間を目指した。
光を受けた、やわらかい反射材を踏み込むと、 反射光がまるで水面(みなも)のように揺らめき出す。 ダイナミックに表情が変わるインタラクティブな空間となっている。
ゆらゆらと水面に反射した光に包まれるような、 あるいは水中から水面を見上げたときのような光景は、 楽しさの中で、ふと、水を考えるきっかけとなる。
株式会社トラフ建築設計事務所
鈴野浩一(すずの こういち)と禿真哉(かむろ しんや)により2004年に設立。建築の設計をはじめ、ショップのインテリアデザイン、展覧会の会場構成、プロダクトデザイン、空間インスタレーションやムービー制作への参加など多岐に渡り、建築的な思考をベースに取り組んでいる。主な作品に「テンプレート イン クラスカ」「NIKE 1LOVE」「港北の住宅」「空気の器」「ガリバーテーブル」など。「光の織機(Canon Milano Salone 2011)」は、会期中の最も優れた展示としてエリータデザインアワード最優秀賞に選ばれた。2011年「空気の器の本」、作品集「TORAFU ARCHITECTS 2004-2011 トラフ建築設計事務所のアイデアとプロセス」 (ともに美術出版社)、2012年絵本「トラフの小さな都市計画」 (平凡社)を刊行。
.
.
.
.
.
.
.
.
source: torafu
Founded in 2004 by Koichi Suzuno and Shinya Kamuro, TORAFU ARCHITECTS employs a working approach based on architectural thinking. Works by the duo include a diverse range of products, from architectural design to interior design for shops, exhibition space design, product design, spatial installations and film making. Amongst some of their mains works are 'TEMPLATE IN CLASKA', 'NIKE 1LOVE', 'HOUSE IN KOHOKU', 'airvase' and 'Gulliver Table'. 'Light Loom (Canon Milano Salone 2011)' was awarded the Grand Prize of the Elita Design Award. Published in 2011were the 'airvase book' and 'TORAFU ARCHITECTS 2004-2011 Idea + Process' (by BIJUTSU SHUPPAN-SHA CO., LTD.) and in 2012, a picture book titled 'TORAFU's Small City Planning' (by Heibonsha Limited).