Blade Runner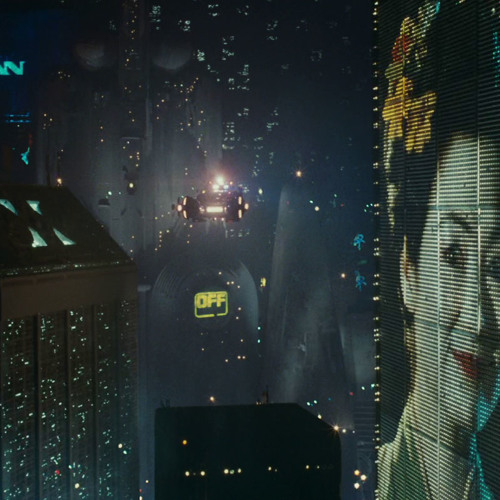 source:thevinylfactorycom
Given the impact and enduring appeal of the original, it's not surprising that the soundtrack to Blade Runner 2049 would be one of the new film's major challenges. Sidestepping the controversy, Nick Soulsby pays homage to the musical genius and cult mythology of Vangelis' original 1982 soundtrack, which arguably remains the greatest score in sci-fi history.
Glass shatters. Full-length panes burst in a glittering sea-surf spray as a bloodied figure — the hunted replicant (simulated machine humanoid) Zhora — hurls herself forward through shop windows, in one of the most haunting dystopian visuals from the 1982 film Blade Runner. While it's an arresting image, the overall impact – the ability to forget we're watching collapsing sugar or synthetic resin – is boosted by wedding the image with sound effects and music. Cinema, a product of the human capacity for story-telling and for reading meaning into content, isn't a purely visual medium; it relies on the interweaving of audio and visual elements. At its finest, cinema audiences don't even need to look at the screen to imagine what's occurring, sound's ability to manipulate emotional responses and to create mental associations is all that's needed.
Vangelis' soundtrack for Blade Runner remains one of the relatively few soundtracks to establish an enduring reputation as fine music in its own right. Vangelis, by mid-1981 when he was first invited to view a rough cut of footage from Blade Runner, was at the peak of his fame as a solo artist, following a half-decade long run of successful albums. On 29th March 1982, a month prior to submitting his compositions for Blade Runner, he would crown his career as a creator of movie soundtracks (which began as far back as 1963) by winning an Oscar for his work on Chariots Of Fire. His work on Blade Runner took place in the midst of a truly auspicious moment for the Greek composer, and he fully lived up to the expectations placed upon him.
Soundtracks are a substantial additional outlay for a film. Many, as a consequence of cost, float along on of-their-moment pop songs that barely relate to the events occurring on screen. It's cheaper, and easier, to simply buy licenses than to compose specifically for a film. Otherwise, a lot of music consists of made-to-measure cues churned out over a matter of days, at most a few weeks, with only one or two themes of substance.
Vangelis was a truly different proposition: his work extended from sometime in mid-1981 through to April of the following year. In that time he composed, arranged, performed and produced each aspect of the music, creating a work of art that reflected a singular, unified vision of his own. This, of course, influenced the work present in the movie, but was also responsible for the final form of the soundtrack.
Vangelis didn't want to release a record robotically, logging the sonic aspects of someone else's film. Instead, he conceived of the soundtrack as a full Vangelis album, a coherent suite. This is a major factor in the soundtrack's favour: it works as a standalone release and not just as an accompaniment to visuals.
Quality, however, is not the sole factor in the allure of any album. It's never just about the music. Blade Runner retains a mysteriousness, which began when, for reasons never clarified, Vangelis' soundtrack was not 'officially' unreleased for a full 12 years.
This absence created a vacuum. Curious fans of the movie, of Vangelis' work, of the cutting-edge of electronic music composition, filled that vacuum with their dreams of how the compositions may have developed away from the film's sequences. Various enterprising individuals spliced together lo-fi reproductions of what could be heard within the film itself. A 1982 bootleg leak emerged, wreathed in aura-building rumours that the film's sound engineers were complicit in its release. In an example of the power of bootleg recordings, for over a decade fans were able to be a part of a secret history, acquiring illicit recordings steeped in the power that comes from knowing someone apparently didn't want anyone to hear them. It was a talismanic object acquired only by the lucky, the devoted or the enlightened.
Having permitted unsated expectations to endure for so long, Vangelis finally released an album in 1994. I say 'an' album because the 12 tracks (one hour of audio) that Vangelis carefully selected to create his album clashed headlong into fans' hunger for more. It was clear from the day of its release that this was only a small portion of the music created. There were already bootlegs available with additional tracks not seen here, while anyone watching the film was able to log a list of compositions still hidden from view. Again, resisting closure, a final reckoning, was an accidental masterstroke in that it ensured an open-ended thirst for more.
This instability of definition wedded the soundtrack irrevocably to the film itself. Ridley Scott, the director, had similar trouble allowing the film to assume a settled state. Pre-release screenings of Blade Runner featured extra scenes, the theatrical release existed in two versions, the nineties saw a new director's cut emerge – this was then followed by a (supposed) 'Final Cut' in 2007. The last event led to Vangelis being invited to release his own revised and expanded cut of the soundtrack: a three disc indulgence consisting of the 1994 'original', a further 45 minutes of music, plus an entirely new suite 'inspired by' the film. Inevitably however, the release still failed to encompass all the music from the film. It simply reconfirmed Vangelis' conception of the soundtrack, meaning the specific album he designed.
Stepping away from this tangled web, does the music deserve this lavish attention? It's easy to respond in the affirmative. Vangelis' work was deployed selectively and carefully, always serving to heighten the mood. Consider how, as Harrison Ford's character Deckard prowls the darkened entry to an apartment where the replicant Pris is hiding, the music impersonates the hoot of owls, thus mimicking the clichéd aural backdrop of a spooky night-time forest while in this most urban setting. It called attention to the absence of nature: the only animals present are declared fakes — the first to appear, many scenes earlier, being an owl. The timing too is immaculate. Deckard is about to enter an apartment in which the only life consists of dolls, robots, manikins, a place populated only by forgeries.
Vangelis cleverly chose to adopt the film's aesthetic as his own. The film wielded futuristic sci-fi to film noir detective drama and action, owing much to psychological thrillers or horror. The most obviously jarring example of how Vangelis simulated this approach was his commissioning of the ragtime jazz song 'One More Kiss', which he positioned at the very centre of his album of cutting edge electronica. Initially intended to be performed by Demis Roussos, Don Percival (an artist manager and sometime musician) sang the demo as a guide, but did so in such a quavering tone that it sounded like it had been beamed in over the radio from some distant era. Needless to say, Vangelis took advantage of the serendipitous accident. And he would go further still, wedging a composition he created in 1980 into the soundtrack — 'Memories of Green' featuring a Steinway Grand played over the effects from a computer game called 'UFO Master Blaster Station' — thus binding the soundtrack into his own past, into the overall arc of his own development.
Roussos contributed vocals to the discombobulating 'Tales Of The Future' where language, the means of communication, is used to emphasise the 'alien' qualities of the environment. Roussos was raised in Egypt and could sing in Arabic, but this wasn't enough. Vangelis was so determined to create a world of incomprehensible strangeness that, while the lyrics sound similar to Arabic words, all are corrupted into meaninglessness with the exception of just two lines which translate as: "Tell me my dear? Tell me my mother?" Furthermore, this meshed with the film's visual language, in which the elite occupy buildings resembling the Pyramids at Giza overlaid with circuitry, while the predominantly Asian populace scurry about in the dark streets.
.
.
.
.
.
.
.
source:infopediapt
Músico grego, Evangelos Odyssey Papathanassiou nasceu a 29 de março de 1943, em Valos.
Depois de uma adolescência dedicada à música, sempre como autodidata, Vangelis formou em 1960 o grupo Formynx, com o qual obteve os seus primeiros sucessos, na sua terra natal, a Grécia. Contudo, foi depois de se mudar para França, em 1968, que Vangelis iniciou os preparos a caminho da fama mundial. Os Aphrodite Child, banda que formou ao lado de Demis Roussos e de Loukas Sideras, começaram por conquistar os tops europeus com o tema "Rain and Tears". Ainda assim, o sucesso foi efémero e, em 1972, a banda separou-se. A experiência do compositor grego no cinema começou ainda em 72, quando se juntou ao realizador francês Frederic Rossif e compôs duas bandas sonoras: L'Apocalypse des Animaux e La Fete Sauvage. O primeiro álbum a solo, Earth, surgiu dois anos mais tarde e mostrou os talentos de Vangelis, além das composições criadas para a tela. Durante os meses que se seguiram, Vangelis chegou até a colaborar com os Yes, antes de mudar de residência uma vez mais, desta vez para Londres.
Vangelis lançou em seguida uma série de álbuns, antes de, no início da década de 80, se juntar ao vocalista dos Yes, Jon Anderson, e formar a famosa dupla Jon & Vangelis, que acabou por alcançar êxitos consecutivos no top britânico, nomeadamente com os temas "I Hear You Now" e "I'll Find My Way Home". Chariots of Fire (Momentos de Glória), um filme de Hugh Hudson, acabou por constituir-se como a consagração maior de Vangelis, que logrou até alcançar um Óscar pela melhor banda sonora. Vangelis continuou depois a compor para a Sétima Arte, nomeadamente para Ridley Scott, no filme Blade Runner.
As criações feitas a solo continuaram em álbuns como Antarctica, editado em 1988, e em The City, que chegou ao mercado em 1990. Dois anos depois, a repetida cooperação com Ridley Scott mereceu-lhe nova consagração, então pelos créditos musicais no filme 1492: Conquest of Paradise (1492: Cristóvão Colombo). Aliás, o tema principal deste álbum ficou famoso em Portugal por ter sido usado numa campanha política por um partido.
El Greco e Oceanic chegaram ao mercado em 1995 e em 1997, respetivamente. Quatro anos mais tarde, o compositor grego regressou com o álbum Mythodea: A 2001 Mars Odyssey.
O trabalho de Vangelis pode ser escutado na compilação Odyssey: The Definitive Collection, lançada no final de 2003. Com uma carreira de mais de 30 anos, Vangelis tem a sua assinatura no firmamento das estrelas da música clássica progressiva, eletrónica e melódica, a forma mais acabada de música erudita feita pop, trazida às tabelas de vendas e imbuída duma tónica mainstream.
.
.
.
.
.
.
.
source:gentehabaneraorg
Evangelos Odysseas Papathanassiou, más conocido como Vangelis (Volos, 29 de marzo de 1943), es un afamado teclista y compositor griego de música electrónica, orquestal, ambient, new age y rock progresivo.
Entre sus obras más conocidas destacan las partituras originales para las películas Carros de fuego (ganadora del Oscar a la mejor banda sonora en 1981),Blade Runner (1982) y 1492: La conquista del paraíso (1992).
1492: la conquista del paraíso es una película estrenada por Paramount Pictures en conmemoración al 500.º aniversario de la llegada de Colón a América, dirigida y producida por Ridley Scott. La trama relata el viaje y destaca la relevancia y el efecto que tuvo el encuentro de estos «dos mundos» sobre los pueblos originarios durante los primeros años de la conquista.
.
.
.
.
.
.
.
source:karelsykorablogidnescz
Vangelis, vlastním jménem Evangelos Odysseas Papathanassiou je proslulý řecký instrumentalista a hudební skladatel. Patří k průkopníkům elektronického popu, jeho tvorba ale zasahuje do více hudebních stylů.
.
.
.
.
.
.
.
source:melena1001livejournalcom
Планета была, есть и всегда будет сильнее нас. Мы не можем уничтожить её, а если перейдем определённый рубеж,
она сама позаботится о том, что бы уничтожить нас, стереть с лица земли и продолжать существование.
Почему бы нам не начать говорить о том, как бы не дать планете нас извести?!
.
.
.
.
.
.
.
source:allmusiccom
Greek composer Vangelis is one of the most important, influential figures in the history of electronic music as well as the world of film scores. His best-known work utilizes synthesizers in an orchestral manner, heavy on grand, romantic melodies and lush arrangements. However, his entire body of work has encompassed many genres, from progressive rock and jazz improvisation to more traditional choral and symphonic music. He first found success as a member of Aphrodite's Child, a psychedelic/progressive rock band active during the late 1960s and early '70s who scored several European hits in addition to releasing the well-regarded full-length 666 in 1972. Following the group's breakup, he released numerous soundtracks and solo albums, ranging from the atmospheric folk-rock of 1973's Earth to the challenging avant-garde electronics of 1978's Beaubourg. He achieved international mainstream success for his triumphant theme music to the 1981 film Chariots of Fire as well as his collaboration with former Yes vocalist Jon Anderson as Jon & Vangelis. However, his groundbreaking soundtrack to the 1982 dystopian science fiction classic Blade Runner arguably remains his most acclaimed work. Vangelis continued releasing albums throughout the '80s, including the minimalist electronic work Invisible Connections (1985) and albums closer to synth pop, such as 1988's Direct. He achieved further international success with his score for the 1992 film 1492: Conquest of Paradise. Following several studio albums during the decade, including 1995's Voices, Vangelis released the choral symphony Mythodea, used by NASA as theme music for the 2001 Mars Odyssey mission. He later composed music for the 2012 stage adaptation of Chariots of Fire, and resumed releasing studio albums with 2016's Rosetta.
End of the WorldEvángelos Odysséas Papathanassíou was born in 1943. He began playing piano and other instruments as early as age three but never learned to read or write music. As a youth, he became interested in jazz and, later, rock & roll. He formed a pop/rock band called the Forminx in the early '60s. The Athens-based group performed covers as well as originals, achieving success in their home country before disbanding in 1966. During this time, Vangelis also composed his first film scores, starting with My Brother, the Traffic Policeman in 1963. After the Forminx broke up, Vangelis formed a psychedelic pop band with singer Demis Roussos and drummer Lucas Sideras. The group attempted to relocate to London but weren't allowed to enter the country, so they ended up settling in Paris, where they signed to Mercury Records as Aphrodite's Child. Their first single, the Pachelbel-inspired "Rain and Tears," became a major hit throughout Europe in 1968, eventually selling over one million copies. Their debut album, End of the World, appeared by the end of the year and garnered comparisons to the Moody Blues and Procol Harum. Second album It's Five O'Clock followed at the end of 1969, but Vangelis refrained from touring with the band. He remained in Paris and worked on his first major film project, scoring the music for Henry Chapier's film Sex Power. Also during 1970, he recorded the music for the wildlife-themed television documentary L'Apocalypse des Animaux, which was released as a soundtrack album three years later. Aphrodite's Child began recording their third album, a musical adaptation of the Book of Revelation titled 666, in late 1970. Conceptualized by Vangelis, the album was much more ambitious and progressive than the group's previous works. The remainder of the band were more interested in continuing in a pop direction, and by the time the album finally appeared in 1972, they had already broken up. Nevertheless, 666 became on early progressive rock classic and is regarded as one of rock's first concept albums.
Heaven and HellIn 1972, Vangelis released Fais Que Ton Rêve Soit Plus Long Que la Nuit, an experimental sound collage album combining choral vocals, field recordings, and news snippets, themed around the 1968 student riots in France that had kept Aphrodite's Child partially grounded in Paris. Only issued in France and Greece, the album was followed by the more widely available Earth (1973), regarded as Vangelis' first official solo album. Featuring input from some of his former bandmates in Aphrodite's Child, the album mixes lush acoustic instrumentation and vocals with keyboards, yet sounds less electronic than much of his later work. Following the album's release, Vangelis was asked to join Yes as their keyboard player, due to the departure of Rick Wakeman. After a few weeks of rehearsals, he decided not to join the band, but he became friends with vocalist Jon Anderson, who then sang on Vangelis' next album, the 1975 epic Heaven and Hell. (The third movement from the album was popularized when it was featured in Carl Sagan's television documentary Cosmos: A Personal Voyage; additionally, Negativland used the piece "12 O'Clock" as the theme music for their long-running radio program Over the Edge.) Vangelis also scored the Mexican drama film Entends-Tu les Chiens Aboyer?; his soundtrack was later reissued as Ignacio.
Albedo 0.39By this time, Vangelis had moved to London, where he set up his own Nemo Studios and signed with RCA Records. His next studio album, Albedo 0.39, was a largely electronic work which revolved around the theme of astrophysics. Released in 1976, it became Vangelis' first Top 20-charting album in the U.K. It also contained the track "Pulstar," which has since regularly been used as theme music for television programs and has been covered by electronic dance artists such as the Italo-disco group Hipnosis. Vangelis' score to another wildlife documentary, La Fête Sauvage, was also released in 1976. Spiral, an arpeggio-heavy studio album inspired by ancient Tao philosophy, appeared in 1977. This was followed in 1978 by Beaubourg, a polarizing album of abstract, minimalist electronics which remains one of Vangelis' least accessible works. Also appearing in 1978 were Hypothesis and The Dragon, two albums of improvised jazz-rock recorded during jam sessions in 1971 while Vangelis was still a member of Aphrodite's Child. Unsanctioned by the artist, he later won a court case against the label which released the albums, and they were taken off the market. Following the end of his contract with RCA Records, Vangelis signed to Polydor and released China, inspired by the culture and music of the nation, in 1979. Also that year, Vangelis and singer Irene Papas collaborated on an album of traditional Greek folk songs titled Odes, and the composer's soundtrack to another nature documentary, Opéra Sauvage, was released, eventually becoming one of his biggest-selling albums in the United States. He began the 1980s with See You Later, an experimental synth pop album with a bleak, somewhat sardonic dystopian theme. Also in 1980, Vangelis and Jon Anderson (by then a frequent collaborator) released their first album as Jon & Vangelis, Short Stories. While moderately popular, the 1981 follow-up, The Friends of Mr. Cairo, was a bigger hit, partially due to the success of the singles "I'll Find My Way Home" and "State of Independence."
Private Collection1981 also brought Vangelis' most successful work, the score to Chariots of Fire, a British drama based on the 1924 Olympics. The album held the number one position on the Billboard 200 for four weeks and sold three million copies within a year, going on to win the Academy Award for Best Original Music Score. Additionally, the opening title theme became a chart-topping hit and remains Vangelis' signature tune. The following year, Vangelis composed the music for Ridley Scott's film Blade Runner, a loose adaptation of Do Androids Dream of Electric Sheep? by Philip K. Dick. Perfectly capturing the rain-soaked atmosphere of the film, Vangelis' score became as much of a cult favorite as the film itself. However, while nominated for a BAFTA and a Golden Globe, the film's score wasn't officially released for over a decade. Jon & Vangelis' third album, Private Collection, appeared in 1983. Vangelis continued releasing heavily electronic-based solo albums and soundtracks, with the score to Japanese film Antarctica appearing in 1983, followed by the lush, nature-themed studio album Soil Festivities in 1984. The more symphonic Mask as well as the minimalist Invisible Connections both appeared in 1985. Rapsodies, a second album of Greek folk songs with Irene Papas, followed in 1986.
The CityRelocating from London to Athens, Vangelis released Direct, one of his most accessible albums in several years, in 1988. This was followed by 1990's The City, which was partially recorded in a hotel room in Rome while Vangelis was attending a screening of Roman Polanski's film Bitter Moon. Page of Life, a final collaboration with Jon Anderson, appeared in 1991, five years after the songs were recorded. Vangelis returned to scoring films with 1492: Conquest of Paradise, a recount of Christopher Columbus' voyage directed by Ridley Scott. The ambitious score received critical acclaim, including a Golden Globe nomination, but it wasn't a commercial success until 1995, when its usage by athletes and political parties propelled it onto the charts in Europe. It eventually sold over four million copies. Following the delayed official release of Vangelis' Blade Runner score in 1994, the composer released the downtempo electronic album Voices, which featured guest vocalists Stina Nordenstam and Paul Young, in 1995. This was followed by the aquatic-themed Oceanic in 1996. A Separate Affair, a recording of a 1981 session with Spanish electronic artist Neuronium, was also released in 1996. El Greco, a neo-classical album featuring soprano Montserrat Caballé and tenor Konstantinos Paliatsaras, was released in 1998. The album was an expanded version of Foros Timis Ston Greco, a limited release which was only available at the National Art Gallery and Alexandros Soutzos Museum in Athens three years earlier.
Alexander [Original Motion Picture Soundtrack]In 2001, Vangelis performed the choral symphony Mythodea (previously performed in 1993 as Mythodia) in Athens, along with the London Metropolitan Orchestra, the chorus of the Greek National Opera, and sopranos Jessye Norman and Kathleen Battle. The work was used as the official music for the Mars Odyssey spacecraft mission, and a studio recording was released by Sony Classical as Mythodea: Music for the NASA Mission – 2001 Mars Odyssey. Three years later, Vangelis composed the score of Alexander, Oliver Stone's cinematic portrayal of the life of Alexander the Great. In 2007, Vangelis released Blade Runner Trilogy: 25th Anniversary, a triple-CD containing the film's original score, a disc of previously unreleased material recorded for the film, and a disc of newly written pieces inspired by it. At the end of the year, he released El Greco [Original Motion Picture Soundtrack], his music for the film by Yannis Smaragdis and an entirely different work than his earlier studio album about the Renaissance painter. Chariots of Fire was adapted for the stage in 2012, and Vangelis' updated version of his iconic score was released as Chariots of Fire: Music from the Stage Show (his first album to be released by Decca). He then composed music for the 2014 Algerian drama film Twilight of Shadows. Also in 2014, Vangelis wrote three short pieces for the Rosetta space mission. This formed the basis of his 2016 studio album, Rosetta. In 2018, Vangelis composed music for theoretical physicist and cosmologist Stephen Hawking's memorial, and a limited CD single titled "The Stephen Hawking Tribute" was distributed. Nocturne, an album of revisited older pieces along with newer compositions played on a grand piano, was issued in early 2019.