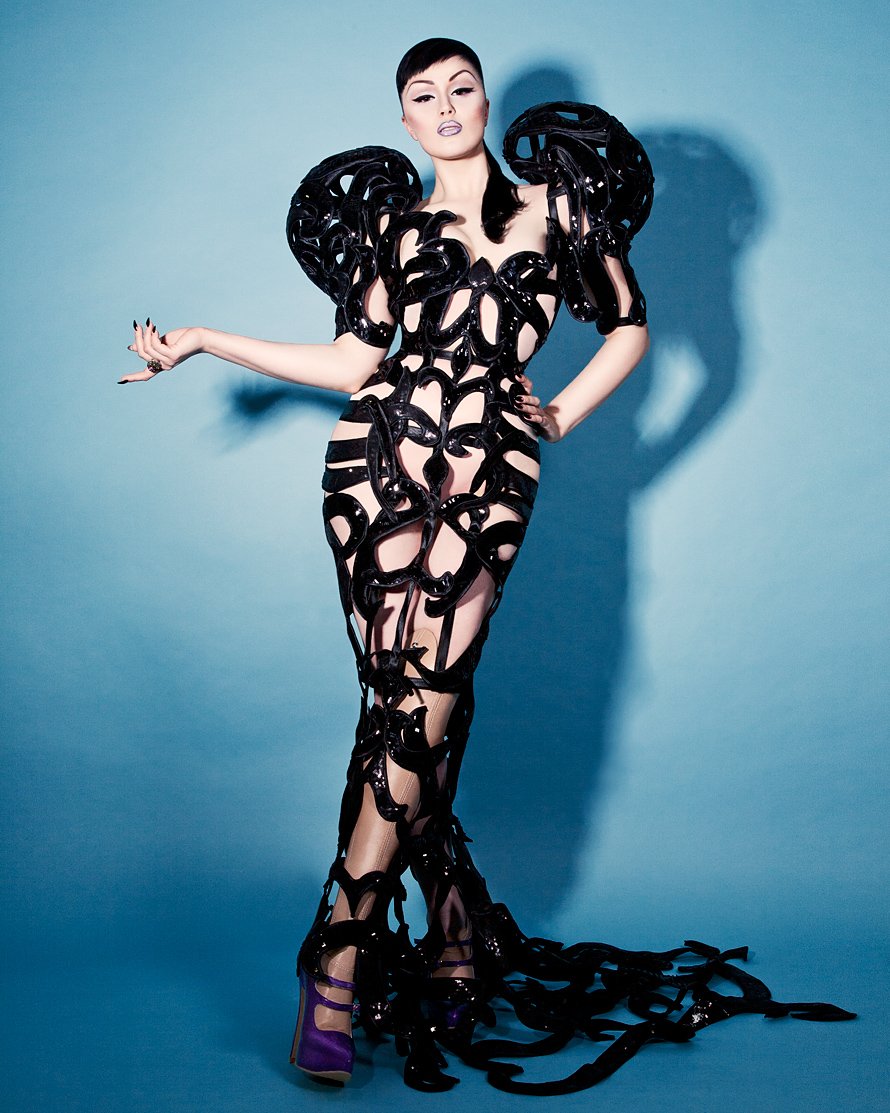 source: viktoriamodesta
Viktoria Modesta is bionic artist, multimedia performance artist, creative director, DJ and a supporter of future innovations. Her work explores modern identity through performance, fashion, avant garde visuals, technology and science.
PHOENIX_VIKTORIA_MODESTA_06022015-051_S.jpgPHOENIX_VIKTORIA_MODESTA_06022015-222_r.jpg
VM has the well-earned reputation of an artist consistently working outside the box. Her life story is a journey of exploration and pushing at boundaries. Born in USSR in 1987 into a troublesome childhood and health struggles in the restricted society of the Soviet regime, she escaped to London at the age of 12. Going from the extremes of hospital confinement in Latvia due to trauma during birth she fell into yet another extreme: the underground subculture of London. Overwhelmed with constant discomfort about her predetermined identity she found the perfect playground for self discovery amongst iconic clubs and fashion personalities.
Her interests in aesthetic eccentricity led to an early start in a modelling career working with alternative clothing brands at the age of 15. It's around that time that she decided that realising her dreams and exploring her potential was simply not possible with the uncertainty of her disfunctioning leg – a burden left after 15 surgeries under the USSR system.
Inspired by creative cult imagery of Alexander McQueen and Matthew Barney, VM approached doctors to have her lower limb amputated and replaced by a prosthetic in order to finally take control over her body. After five years battling to find the support for her decision among the medical profession, she finally had a voluntary operation at the age of 20.
In many ways this was the real start of VM's creative life and the end of frustrating limitations. Shortly after the transformation she embarked on several creative projects that shaped her individuality.
VM set the tone in collaboration with JAMES STROUD whose nude portrait of her was selected by The National Portrait Gallery and exhibited at the opening of St Pancras International Station. After years not participating in the things she loved, she began to develop the artistic world she had long wanted to create.
She picked up her musical roots from Latvian stage school and began songwriting, co-producing and ultimately orchestrating everything – directing photo shoots, designing online media and styling. VM's performances were most prominent in the fashion and art circles, performing at Fashion Week events, niche festivals such as LOVEBOX and throughout London night scene.
Never identifying herself with the disability tagline or constrained by her physicality, in 2012 VM starred in a key performance at the PARALYMPIC CLOSING CEREMONY directed by Kim Gavin. It was broadcast LIVE to over a billion viewers worldwide. Her role as the enchanting Snow Queen wearing a Swarovski prosthetic leg & performing with the main skating cast from Dancing On Ice gave birth to her new understanding of enhancing cultural landscape though her unorthodox vision – mixing fashion, sensuality and physical augmentation in a progressive way.
While continuing to cultivate her profile in the media in publications such as iD, Wonderland, Grazia UK and Italy, LOOK, Notion, The Times, Music Week, PRS Magazine and public talks at Wellcome Trust Museum, VM entered into a collaboration with CHANNEL4.
Their visions collided to fill the gap between pop aesthetic, credible art and physical representation within the media. They created a music video/film campaign that would take the world by storm generating over 45 million view impressions worldwide, and featuring in most popular blogs, magazines and news channels.
That video, part of the Born Risky season, directed by the talented Saam Farahmand, became a milestone in cultural perception of identity (see full information about the campaign). Throughout the project the intention was to maintain authenticity giving VM incredible creative control and a platform to tell her story in an honest way.
Following that success her profile elevated further Directors Fellow position at the prestigious MIT Media Lab where she hopes to diversify further.
Her mission remains to explore the future depths of human experience…
.
.
.
.
.
.
.
source: lilianpacce
Já ouviu falar em Viktoria Modesta? A artista, de 26 anos, se autointitula como a 1ª popstar biônica do mundo! Seu clipe de estreia, "Prototype", foi lançado durante a final do "X-Factor" britânico e virou hit nas redes sociais com mais de 4 milhões de visualizações – é um nome pra ficar de olho!
Viktoria nasceu na Letônia e sofreu várias complicações com sua perna esquerda durante a infância. Por esse motivo, ela resolveu amputar o membro aos 20 anos! A cantora, então, fez da condição o seu diferencial e é conhecida por usar próteses superestilosas: tem uma que brilha no escuro, outra em forma de garra e mais outra que é cravejada com Swarovski!
Modesta tem um visual "pin-up high tech" e já foi comparada diversas vezes à Lady Gaga. Ela é fashionista, abusa da sensualidade e arrasa nos penteados! A saber: a cantora se apresentou na Paraolimpíadas de Londres ao lado de Coldplay! Gostou dela? Então confere o clipe dela no YouTube e clica na galeria pra ver mais!
.
.
.
.
.
.
.
source: tgcom24mediasetit
Lei si definisce su Instagram: "Donna bionica, artista pop e dj". Ma Viktoria Modesta, 26enne nata in Lettonia, ha una particolarità che la rende speciale: è la prima popstar amputata al mondo. La cantante ha deciso di amputare la gamba sinistra a causa di una malformazione e dopo 15 interventi chirurgici fallimentari. Del suo handicap ha fatto un punto di forza tra foto glamour e protesi moderne e raffinate.