Gloria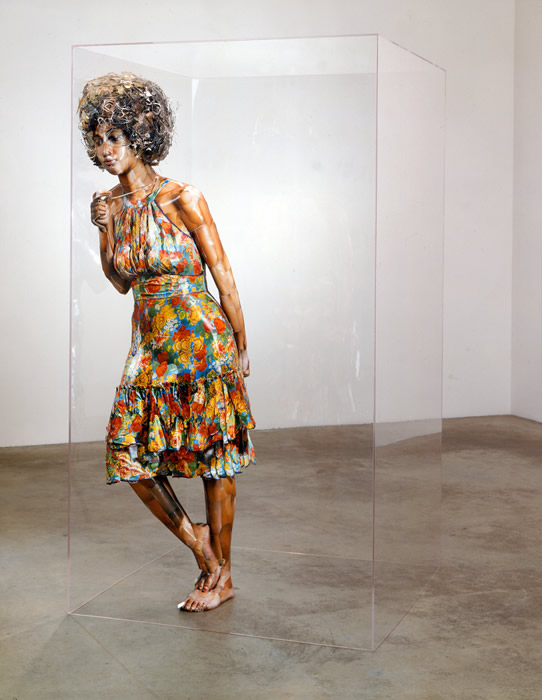 source:fryemuseumorg
Oliver Herring: Taking and Making
JUNE 4 – SEPTEMBER 18, 2005
Oliver Herring's stunning sculptural portrait Gloria (2004) was a hit at the recent international art fair Art Basel Miami Beach. Created from thousands of fragmented digital chromogenic prints, this lifelike and expressive construction exists at the intersection of photography and sculpture and between realism and abstraction.
Best known for monumental but nearly weightless sculptural works like Big Round Flat (2001), created by knitting forms from reflective mylar, parachute nylon, and other untraditional materials, Herring is also a maker of highly ambitious multiple-channel video works, which, like his knitted and photographic sculptures, employ an incremental linear process, gathering fragments into a finished whole. His Little Dances of Misfortune (2002) uses stop-motion video and features numerous performers and sets, sometimes painted with phosphorescent paint. Performers are filmed only at the precise moment the studio lights are turned off and the room shifts to darkness. The artist not only shot and edited this work frame by frame, he also provided the original score.
The Frye is honored to host Herring's first solo exhibition in the Northwest, which will feature recent sculpture, video art, performance artifacts, and photography. Central to this exhibition is a new sculptural portrait, Leon, which premieres at the Frye.
The artist exhibits internationally and his work is included in numerous private and public collections. Born in Germany, Herring currently lives and works in New York City, where he is represented by Max Protetch Gallery.
.
.
.
.
.
.
.
source:art21org
Oliver Herring was born in Heidelberg, Germany, in 1964, and lives and works in Brooklyn, New York. He received a BFA from the University of Oxford, Ruskin School of Drawing and Fine Art, Oxford, England, and an MFA from Hunter College, New York. Among Herring's early works were his woven sculptures and performance pieces in which he knitted Mylar, a transparent and reflective material, into human figures, clothing, and furniture. These ethereal sculptures, which evoke introspection, mortality, and memory, are Herring's homage to Ethyl Eichelberger, a drag performance artist who committed suicide in 1991. Since 1998, Herring has created stop-motion videos and participatory performances with "off the street" strangers. He makes sets for his videos and performances with minimal means and materials, recycling elements from one artwork to the next.
.
.
.
.
.
.
.
source:widewallsch
Oliver Herring is a German-born contemporary artist who uses experimental techniques with the intention of better understanding human nature, individual behavior, and interpersonal dynamics. Herring works in a wide range of media including sculpture, knitting, photography, paintings, and video. He received his BFA from the University of Oxford, Ruskin School of Drawing and Fine Art, Oxford, England in 1988, and his MFA from Hunter College, New York in 1991.
Homage to Ethyl Eichelberger
Throughout the 1990s, Herring became known for hand-knit Mylar and tape sculptures. These ethereal sculptures, which evoke introspection, mortality, and memory, are Herring's homage to Ethyl Eichelberger, a drag performance artist who committed suicide in 1991. That project lasted ten years, and revolved around marking time through the accumulation of incremental stitched units. In the late 1990s his practice expanded to include improvised stop-motion videos and performances that at first involved friends and eventually strangers on the street. These interactive works were counterpoints to the more stationary and solitary work practice of knitting. Herring knit the transparent tape into colorless human figures, clothing and furniture. When they were on display, he chose the Mylar clothing to be hung or placed in a way that it looks like the shape they would be if worn.
Herring's Open-Ended Performances
Since 1998 Herring has focused primarily on brief, yet intensive, collaborative encounters with volunteer participants. Herring directs and documents open-ended performances, usually involving a series of actions, which take place in different environments, including gallery or museum spaces, private homes, municipal buildings, and educational facilities, and feature groups of strangers interacting with each another. The resulting stop motion videos and photographs that Herring creates not only record these impromptu activities, but reveal the poignancy implicit in humanity when strangers expose their vulnerabilities and embrace trust.
Exit
Many of Herring's videos were primarily stop motion. Stop motion or stop frame is an animation technique that make a physically manipulated object or person appear to move on its own. Example of this kind of Herring's works is piece titled "Exit" made in 2000. The work shows the artist sleeping in his chair, which then flies around the room, and through stop motion culminates in a whimsical and surreal dance number with multiple Herrings and other characters.
Herring's Photo-Sculptures
Herring's photo-sculptures are the product of an intimate artist-model interaction in which he systematically photographs every part of their body and then applies the resultant prints in fragments with utmost detail to a proportionally sculpted human form, in a process that takes many work sessions. "Gloria", one of his most famous sculptures, is of a girl leaning against a wall in a colorful flower dress holding her necklace. Herring took pictures from every angle of her and then cut and pasted them on the base to form the sculpture.
TASK Parties
In 2002 Herring created the improvisatory art event TASK, an ongoing series of events, workshops and parties in which participants of all ages and demographics collectively dream up instructions and carry them out with the materials provided. Herring held the first event in London. Subsequent events have been held among other places in Washington, DC, Toronto, Seattle, Philadelphia, and San Francisco, California, often partnering with local art museums. Increasingly, TASK is becoming a tool in classrooms and communities to access contemporary art in a way that is experimental, open-ended, and accessible to anyone.
Areas for Action
Herring's ongoing project, Areas for Action, is a concept for an accumulative exhibition consisting of daily performances, improvisatory sculptures, and real-time collaborative artworks created on-site utilizing a variety of materials—glitter, tape, body paint, tin foil, food dye, and photo cut-outs. Taking its title from the artist's utilization of the gallery space, Areas for Action divides the exhibition and performance spaces into discrete areas for specific interventions and actions. Each day a new group of volunteers joins Herring as he directs and documents these performances. Areas for Action sought to remove boundaries between time-based and non-time based artwork, between new media and physical art objects, and between viewers and participants. The creative process becomes a site of vulnerability and risk-taking, a social experiment, and an open laboratory for innovative modes of representation.
Oliver Herring is based in Brooklyn, New York.