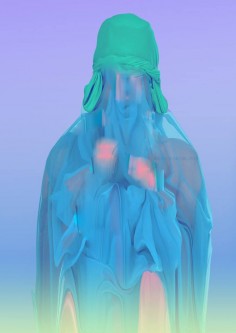 source:crossconnectmagcom
The images of Andrea Delo Toro Sicsik seem to relish their weirdness. Her work is a series of photographs that don't hide that they've been digitally manipulated. Rather they revel in their clearly altered states like a digital hallucination. Faces both playful and sinister materialize behind a pastel fog. The photographs are arranged much like traditional portraits. Indeed, there is nearly a religious atmosphere in each image's composition.
.
.
.
.
.
.
.
source:bizarrebeyondbeliefcom
Andrea Delo Toro Sicsik is a Mexican photographer based in Torreón, Coahuila. Her digitally modified photographs make from unbelievably beautiful and bizarre works of art.
.
.
.
.
.
.
.
source:truequeandounacosawordpresscom
Check out this Mexican artist Andrea Sicsik, I really like the colors, gradient and aesthetics of her work. This project is the one that caught my attention, I think is very interesting. What do you think of it?