阿兰达\拉希
アランダ\ラッシュ
Primitives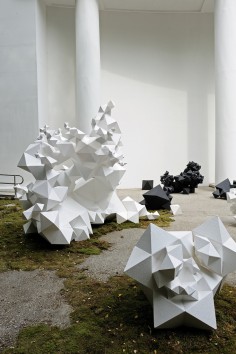 source: arandalasch
Primitives is an installation that combines the romantic tradition of ruined landscapes with modular fractals. First realized across the entry of the Venice Biennale in 2010, it is comprised of loosely dispersed furniture elements that appear like rock piles, each one unique but formed from the same universal building block. Like microcosms in the distance, the clusters are imagined as islands falling apart and building back up, organizing and eroding at once.
The Primitive arrangements can be sat on, leaned against, held in your arms. The space is used to hold a series of conversations during the Biennale organized by arts organization TBA-21. It is more of a cave than an auditorium. The informality implicit in an ordering system is more important than expressing its strict composure. Multiple pursuits come together here—the quasicrystal, the fractal, the single building element, the landscape object—to make something atomized, frayed and open.
.
.
.
.
.
.
.
source: arandalasch
Aranda\Lasch is an architectural studio dedicated to experimental research and building. Established by Benjamin Aranda and Chris Lasch, the studio designs installations, objects and buildings through a deep investigation of materials and structure. Winners of the United States Artists Award and Young Architects Award, their early architectural projects are the subject of the book, Pamphlet Architecture #27: Tooling. Their work has been exhibited in galleries and museums including the MoMA, MAD, Venice Biennale, Design Miami/ and TBA-21. Aranda\Lasch develop experimental furniture products through the Johnson Trading Gallery in New York. They are currently working on retail and civic developments in Miami, Florida and Libreville, Gabon.
.
.
.
.
.
.
.
source: thecreatorsproject
Crystallography, molecular structures, cosmology—three things that aren't usually associated with designing a chair or a house, but these scientific subjects are what architects and designers Aranda\Lasch mine to create their modular designs that emulate the infinite.
It's an approach that favors systems over principles, building structures that can replicate in an endless amount of ways like a living system, growing into a variety of possibilities to create abstract forms that challenge our notions of what an object has to look like. Which is why they look to disciplines like crystallography for inspiration and guidance.
While crystallography might seem like it's pretty far removed from how to design a chair or a building, it's actually informing how designers look at the products we use every day—computer chips, cell phone batteries—and is, as Benjamin Aranda says "driving an invention in material culture."These ideas might not be so familiar to the average person, but for designers they're shaping how they think about the processes and structures that go into creating an object.
Christopher Lasch defines the companies design ethic as: "For us design is about putting in place a process from which you can guarantee surprises." Surprises that are built using algorithms and formed from fractal anatomies, allowing the duo to find the endless in an object—whether that's creating a bridge from octahedrons or a crystalline stage set for Yeasayer. As Benjamin Aranda explains: "Our understanding of modularity is something that's not quite obvious or fixed, something that can be a tool for finding infinite variation."
.
.
.
.
.
.
source: artlog
At the design and architecture firm Aranda/Lasch, repetition is not redundant, it is a gateway to infinite possibilities. Through their study of crystals and implementation of computer algorithms, Benjamin Aranda and Chris Lasch apply the rules of solid-state matter to architecture.
Looking to modularity for inspiration, they sample structures as small as a molecule to constructs of cosmological size. Their designs represent a divergent path in sustainable architecture: rather than plant growth and curves, think of crystal growth and hard edges.