Tornado Warning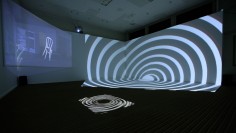 source: picaorg
Charles Atlas' five-channel video installation, Tornado Warning, draws from the filmmaker's early memories of the tornado alerts in his childhood town of St Louis, Missouri. The piece contrasts an orderly space of grids and numbers with a chaotic environment of found images cut from old films, news footage, and the Internet. Ordinary objects fly around an empty room, swirling abstractions dominate the walls, and distorted bodies dance over images of radio waves. Seemingly in motion, the space of Tornado Warning appears unruly, alarming, violent and relentless.
.
.
.
.
.
.
.
source: frieze
In recent years, Charles Atlas has become a sort of court portraitist to the Anglo-American choreography and post-punk scenes, a world he has been part of since the late 1970s. In his biographical films, made since the '90s for both TV and cinema, Atlas has profiled such luminaries as Merce Cunningham, Michael Clark and Leigh Bowery, all of whom he has previously worked with as a set designer, director and video artist. Over the years Atlas has collaborated with, amongst others: Yvonne Rainer, Diamanda Galas, Marina Abramović and melancholic balladeers Antony and the Johnsons. Exhaustive as this list is, it does tend to reduce Atlas to a mere triangulation between starry points. In his second exhibition at Vilma Gold, he thankfully shrugs off the mantle of 'biographer' in an installation that's at once strident, personal and startlingly innovative.
'Tornado Warning' consists of two rooms of hallucinatory video projects inspired by the artist's childhood experiences of storm alerts in St. Louis, Missouri. There is a nostalgically technophile element to the show that recalls a moment in the early 1990s when the category of 'media art' seemed to open up new possibilities of both freedom and control. Plato's Alley (all works 2008), a single-channel video projection occupying one end of the gallery space, realizes this ambivalent vision as a storm of numbers emerge from a grid, swirling around empty space like dust devils. Within the video loop, there's a hypnagogic eye-of-the-storm moment in which gently vibrating vertical and horizontal swatches soothe the viewer, a lull before the numbers charge then halt, threatening numerals reading '1,2,3,4,5,6'.
Institute for Turbulence Research (2008), multi-channel video installation. Courtesy of the artist and Vilma Gold, London
Shown in the adjacent gallery, Institute for Turbulence Research is a vertiginous experience, comprising four video projections positioned at drunkenly oblique angles. Dominating the space, a black and white disk reminiscent of Marcel Duchamp's phonographic 'Rotoreliefs' (1935) spins frantically, spilling onto the floor and an adjacent wall. Skittering erratically like a searchlight, a smaller projection displays snippets of found footage: a man is slapped hard in slow motion; a jumbo jet careens; and woman looks up mournfully from a sidewalk. Another projection issues a montage of images bound together by recurring circular motifs: an eye, a roulette wheel (more threatening numbers) and a man plummeting through empty space. Nearby, back-projected onto a screen slung between two walls, various ghostly objects – a chair, light bulb, pink teddy bear and packing crate – spin from an invisible thread to evoke a theatrical mock-up of the domestic effects of a violent storm.
Accompanying this visual onslaught, a thunderous electronic soundtrack attempts to do unnameable things to one's already frayed nerves. In a litany redolent of '80s industrial music, a baby screams, a dull thud beats 4/4 time and a mechanical buzzing noise stalls against a piercing, corrugated explosion. Amongst this barrage of sound and vision, Tornado Warning choreographs a sense of bodies beaten black and blue by external forces. It's easy to imagine the worst – Hurricane Katrina or, perhaps, the devastation of AIDS. Yet, as with industrial music, there's something cathartic and even pleasurable about gorging on this dislocation. It's a terrifying feast, masterfully orchestrated.
.
.
.
.
.
.
.
source: blogart21org
Tornado Warning, an exhibition of new works by Charles Atlas opens next week at Vilma Gold Gallery in London. The Art21 artist's videos often take dance and performance as their point of departure, creating collaborations between the two genres that journey them from traditional documentary to provocative and ironic minglings where narration and fiction overlap. Recently Atlas has taken interest in real-time video as stand-alone, on-stage or live electronic improvisations, coupling the spontaneity of the medium with meticulous formal precision to create visually arresting and challenging new environments.
Several new installations comprise the Vilma Gold exhibition, including the eponymous Tornado Warning, a five-channel video work installed throughout the gallery space that explore the intersection between chaos and order arising from Atlas' early memories of tornado warnings in his childhood town of St Louis, Missouri. Tornado Alley consists of two rooms that contrast in appearance, form, content and atmosphere, utilizing montage to fashion a large scale installation "that delves into the powers of perception, triggering memory and submerging the viewer in his dream like world."
.
.
.
.
.
.
.
source: luhringaugustine
Charles Atlas has been a pioneering figure in film and video for over four decades. Atlas has extended the limits of his medium, forging new territory in a far-reaching range of genres, stylistic approaches, and techniques. Throughout his production, the artist has consistently fostered collaborative relationships, working intimately with such artists and performers as Leigh Bowery, Michael Clark, Douglas Dunn, Marina Abramovic, Yvonne Rainer, Mika Tajima/New Humans, Antony and the Johnsons, and most notably Merce Cunningham, for whom he served as in-house videographer for a decade from the early 1970s through 1983; their close working relationship continued until Cunningham's death in 2009.
Atlas was born in St. Louis, MO in 1949; he has lived and worked in New York City since the early 1970s. His work has been exhibited domestically and internationally in such institutions as Tate Modern, London; the Museum of Modern Art, New York; the Centre Pompidou, Paris; the Institute of Contemporary Art, Boston; Hamburger Bahnhof – Museum für Gegenwart, Berlin; and the Whitney Museum of American Art, New York. Recent solo exhibitions include the New Museum, New York; the De Hallen, Haarlem; and Bloomberg SPACE, London. In 2013, The Metropolitan Museum of Art acquired his video Teach, one of his best-known collaborations with Leigh Bowery. Upcoming exhibitions include Strange Pilgrims at The Contemporary Austin in Fall 2015, as well as a survey of Leigh Bowery's work at the Manchester International in 2016, for which Atlas will make a new work using previously unseen footage of Bowery. In January 2015, Prestel Publishing released Charles Atlas, the first major publication on Atlas' work, featuring writings by Stuart Comer, Douglas Crimp, Douglas Dunn, Johanna Fateman, and Lia Gangitano.
.
.
.
.
.
.
.
source: vdborg
Charles Atlas, film director and video artist, has directed more than eighty films and videotapes. His recent output in these media has largely been the result of commissioned works for television both in the U.S. and in Europe.
The films and videos have ranged from the feature-length piece, Hail the New Puritan, a fictional day in the life of a young British punk ballerina, to As Seen on TV, a short comic film starring vaudevillian Bill Irwin, to Put Blood in the Music, a documentary about the downtown New York music scene circa 1989, to Son of Sam and Delilah, an impressionistic combination of opera singing, disco dancing, and serial killing, to Superhoney, a Gothic eroto-horror videodance. His film Merce Cunningham: A Lifetime of Dance, a 90-minute international co-production for television, won a "best documentary" award at Dance Screen 2000 in Monaco. His latest film is The Legend of Leigh Bowery, a feature-length documentary about the London-based performance artist and art/fashion icon.
Many of the films and videos have been made in collaboration with choreographer/dancers (including Merce Cunningham, Douglas Dunn, Karole Armitage, and Michael Clark) and performers (including John Kelly, DANCENOISE, Marina Abramovic, Karen Finley, Diamanda Galas, and Leigh Bowery). His most recent dance-related work, Rainer Variations, is a video montage/ portrait of filmmaker/choreographer Yvonne Rainer.
Throughout his career, Mr. Atlas has also been involved as collaborator in live performance work as director and also as designer of sets, costumes, lighting, and mixed media presentations. His work in this area has spanned the range from loft performances to opera house productions. His multi-media performance/theater piece, Delusional, (created in collaboration with Marina Abramovic) for a solo performer and four hundred live rats was presented in Belgium and Germany in April 1994. Atlas recently completed the video sequences about the work of the Judson Dance Theatre in the 1960's for The White Oak Dance Project's touring stage production, PastForward.
Mr. Atlas has created several large-scale, mixed-media video installations. The Hanged One had as its components 15 channels of video, programmed lighting, and kinetic sculptural elements. It was shown at the Whitney Museum of American Art in January-March 1997. Recent video installations he has created have been shown at XL Xavier LaBoulbenne (NY), The Aldrich Museum for Contemporary Art, The Kitchen (NY), Magazin 4 (Austria), Ost-Gut (Berlin), Kjubh (Cologne), La Criee (France), and Performance Space (Sydney, Australia).
Mr. Atlas is the recipient of three "Bessie" (New York Dance and Performance) Awards. The most recent (1998) was in recognition of the video collages he made for the monthly event, "Martha @ Mother".