Delusions of Self-Immolation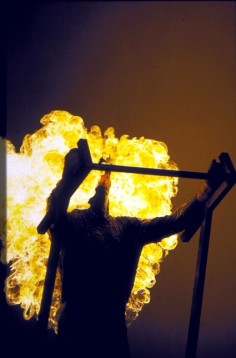 source: kazilhomexs4allnl
Dutch artist Erik Hobijn built an apparatus where a person is first covered in a fire repellant gel. Then the person is set alight and then extinguished after a few seconds.
.
.
.
.
.
.
.
source: vimeo
The installation-performance "Delusions of Self-Immolation" questions the boundaries of the body. Erik Hobijn's machine, equipped with fire and water spraying devices, sets fire to the victim and extinguishes the flames, standing in the middle of a platform. This documentation shows one of Erik Hobijn's demonstrations, and interviews the artist (in Dutch).
.
.
.
.
.
.
.
source: v2nl
Erik Hobijn is a media and machine artist with Dutch nationality, and who lives in Berlin. He is the founder of the Techno-Parasites and founding member of the Dutch art group Netband. He made several extreme installations in which fire is an important part of the work. The installation Dante Organ consists of 12 flame throwers controlled by a computer, and Delusions of Self-Immolation is a machine of controlled self arson. Other installations include the interactive smell installation Olfactoric Nervous System.
He participated in the V2_ book Book for the Electronic Arts. He is author of the lecture Techno-Parasites, Bringing the Machinic Unconscious to Life.
.
.
.
.
.
.
.
source: we-make-money-not-art
Delusions of Self-Immolation, aka 'the suicide machine', was a built by Erik Hobijn in the 1990s to set members of the public on fire. Literally.
The person would stand on a platform covered in a flame-resistant gel. A flame-thrower would then burn their body for less then half a second. The platform then turns on itself so that the extinguisher situated on the opposite side of the machine can extinguish the person immediately.
In an interview with Derek Holzer, Hobijn explained: There are three states on the machine which I call "rare", "medium", and "well done". "Rare" means you survive without any wounds. "Medium" is more for, say, the SM session or for people who like pain to understand parts of life, or to have this experience of pain. The third possibility is death. It is possible to die in this machine; I just have to change the liquid, and I have to change the timing.
Some 30 people have tested it at the time, many of whom were women.
The machine was shown at STRP along with a video. The artist also made demonstrations. I doubt it would be possible to have it function nowadays. We've all caught the Health and Safety bug in Europe.
Obviously, there is something physical in the Self-Immolation experience but what goes on inside the mind of the people before, during and after the burning alive experience must be even more intense and fascinating.
If you speak dutch, i would recommend the book SKG: kunst, muziek & terreur 1978-1981 by Martijn Haas that reconstruct the 'night of terrorism' orchestrated by Hobijn in the Summer of 1980 in Amsterdam.
.
.
.
.
.
.
.
source: we-need-money-not-art
自焚的妄想,又名"自杀机",由 Erik Hobijn于1990年制造,从字面上来看,是用以燃烧公众成员的机器。
人站在一个覆盖着阻燃凝胶的平台上,一个火焰喷射器在不到半秒的时间内引燃他们的身体。然后,平台会自动打开,这样,位于对面的灭火器可以立即熄灭人身上的火焰。
在一次Derek Holzer的interview(采访)中,Hobijn解释说:这部机器有着三种模式,"罕少"、"中等"以及"干得好"。"罕少"表示你在没有受到任何伤害下幸存。"中等",更常见的说法是,受虐期,或那些认为痛苦是生活的一部分的人们,亦或是为了体验痛苦。第三种可能性是死亡,在使用这个机器中死亡。我只需改变(燃烧)液体(的量)以及把握时机。
已有30人体验过这部机器,大部分都是女人。
该机器连同一部影片在STRP(电子艺术节)中展出,艺术家本人也做了示范。我怀疑如今这部机器真有其存在的价值,我们都身陷欧洲的健康与安全的烦扰之中。
显然,这的确是一些生理上的自焚经历,但在这些人的内心深处,焚烧之前、其过程以及之后的幸存经验,必将更刺激、更吸引人。
如果你会说荷兰语,我想推荐你一本书,由Martijn Haas写的SKG: kunst, muziek & terreur 1978-1981,重构了Hobijn1980年夏在阿姆斯特丹精心策划的"恐怖主义之夜"。