فريدريك هيمان
弗雷德里克·海曼
פרדריק היימן
フレデリックヘイマン
ФРЕДЕРИК ХЕЙМАН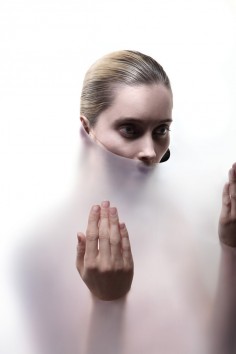 source: itsnicethat
In his delightfully weird body of work, Frederik boasts fantastical hand-made sets complete with urine-based props alongside some very, very crisp high-end fashion campaigns. Not content on just getting beautiful models to do the visual job for him, Frederik shoves cigars in their mouths, paints horses on to them, or elongates their arms into big meaty tubes. Seeing a guy who's this good at what he does but with a big element of "I'll do whatever the hell I want" is refreshing, hilarious and very impressive.
.
.
.
.
.
.
.
source: zillamag
Frederik Heyman is a Belgian photographer/designer who studied at the Royal Academy of Fine Arts in Anvers, Belgium. His distinctive surrealist and facetious works express his will to blur the lines between photography, graphic design and staging. He has had the chance to work with companies like Mercedes, Cheap Monday, Vogue Men Japan as well as many other publications. Sometimes strange, disturbing but fascinating, here is a quick look at his portfolio.
.
.
.
.
.
.
.
source: bewaremag
Frederik Heyman is an all-around artist born in Belgium. Both photographer and designer, he studied illustrative design and photography at the Royal Academy of Fine Arts based in Anvers.
Heyman started his career as an independent artist, and then worked with unusual fashion designers such as Six Lee, Bruno Pieters or Henrik Vibskov. During the last Berlin Fashion Week, he also partnered with Mercedes Benz for the exposition Recollection Quartett. His renown and his experience of the fashion world lead him to work for several fashion magazines, notably Vogue Japan.
His work, humorous and surreal, helps to erase boundaries between photography, graphic design and space shaping. With many distortions (real or digital), not to mention strange and imposing installations, Heyman creates a world both unstructured and fascinating.
Part of a new generation of photographers, his aim seems to give birth to a new kind of collaboration between all the arts, definitely modern and complex.
.
.
.
.
.
.
.
source: nvtblogspot
Frederik Heyman hoeft eigenlijk geen introductie. Met zijn werk voor onder andere Vogue, Blend Magazine en Delvaux is de 27-jarige Heyman reeds een gevestigde naam in de wereld van de fotografie. Zijn foto's stralen positiviteit uit en zijn een bron van inspiratie voor vele designers.
.
.
.
.
.
.
.
source: relaxic
Жанр, в котором работает талантливый бельгийский фотограф Фредерик Хейман (Frederik Heyman), обозначить очень трудно, потому что в нем смешиваются сюрреализм, фэшн, гламур, коллаж и множество других. Фредерик работает с такими известными брендами как Kenzo, Mugler, Vogue, L'Officiel Paris, Mercedes-Benz и многими другими, а также проводит персональные выставки по всему миру.
.
.
.
.
.
.
.
source: gimmiinl
Inspirerende foto´s die ik graag op mijn muur zou hebben. Niet allemaal, want soms schiet hij wat door in het lugubere, maar de Belgische ontwerper/fotograaf Frederik Heyman maakt veelal de prachtigste creaties. Voor zijn foto´s maakt hij composities met vaak huislijke objecten, zoals de stofzuiger en stoelen voor ´Paard en Slang´. Heyman houdt van interieur en design met een knipoog en fotografeert veel voor de mode-industrie. De sprekende kleuren en surrealistische referenties geven vaak een lekkere positieve vibe af. Elke foto is weer een verrassing, waarop je lang kunt zoeken naar verborgen details. Hierbij een kleine greep uit zijn oeuvre.
.
.
.
.
.
.
.
source: naoresisto
Frederick Heyman faz parte da nova geração de fotógrafos, graduado na Antwerp Academy (Bélgica).
Ele trabalha com vários designers de nomes talvez ainda desconhecidos (Bruno Pieters, Christian Wijnants e Henrik Vibskov, entre outros) e mistura fotografia com design gráfico, produzindo belas e diferentes imagens.