ГЕРБЕРТ БАГЛИОН
1000 shadows Brasil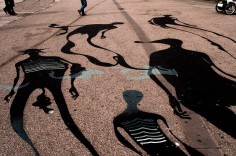 source: auibtimes
Herbert Baglione has developed a habit of stunning the critics and the common man alike with his street art. This street artist from São Paulo, Brazil is a maestro who never fails to mesmerize. Baglione has been painting on public streets and walls in Madrid, Paris and other undisclosed locations.
His latest wonder is a series called "1000 Shadows," for which he chose an abandoned psychiatric hospital situated near Parma, Italy. He created some of the most intriguing pieces of modern art on the walls and the floors of the old building.
The hospital was originally sinister looking, as it was long abandoned. Baglione manages to create it even more frightening by painting a series of eerie shadows. If these do not throw a chill wave into your spine, you are far from a mere mortal. The experi'mental' series is apparently crafted to scare the urban population to the extreme.
The winding figures which are anatomically fine otherwise, shift shapes in improbable positions. They lurk from unlikely places ranging from darkened rooms and disfigured walls. This is not the first time Baglione is engaged in daunting activities when it comes to his art. Mexico City witnessed a show recently, where he painted with own blood.
This time, Baglione invaded the unspecified mental hospital and used empty wheelchairs and broken walls to add more life to his art. Creepy figures originate from the chair and move towards improbable directions.
Many find Biglione's art intriguing while some find it extremely negative which lacks sensitivity. No matter what the world may think of this series, it definitely adds a creative charm to the abandoned hospital. The shadows provide an amazing depiction of the people who stayed there. It also tells numerous stories of the fears, follies, screams and delusions which once echoed around the walls.
.
.
.
.
.
.
.
.
source: fifty24sf
Brazilian artist Herbert Baglione has been a strong interest in the South American graffiti movement for more than ten years. Inspired by Brazil's street culture, Baglione started experimenting with new ways to look at his urban environment of Sao Paulo and provoked dialogue about his fresh perspective on urban artwork. Alongside these efforts are Baglione's distinctive mural designs and stretched figures representing humans and aliens. These are often balancing elongated and rounded extremes with dramatic iconic symbols such as familiar urban architecture.
Influenced by his older brother, Baglione began painting at the age of three, and has found his greatest interest in provoking themes such as death, individualism, family, and chaos. These complex themes alongside his distinctive style have given Baglione deserved recognition in the international graffiti scene.