The Infinite Music Machine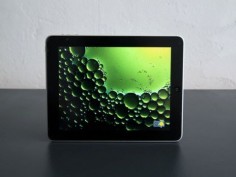 source: evolverfm
Inspired by their joint performance at the FEED soundscape in Berlin, "The Infinite Music Machine" is an iPad application that brings together the work of sound artists Juju and Jordash with the liquid projections by Paul Skawinski.
The app was developed by the team at the Future Audio Workshop. Besides enjoying the sound and visuals, user can also set the length of time the iPad generated version of the performance, from 1 minute to infinity. All that is left is to zone out and drift away – says Gavin from FAW.
Juju & Jordash Present: The Infinite Music Machine
An immersive digital journey into the analog world of Juju & Jordash.
On the 24th of February 2012 at Berlin's Feed Soundspace, Juju and Jordash gave a live improvised performance, accompanied by artist Paul Skawinski's liquid projections. The application takes their muliple layers of analog recordings and randomly combines them to produce an infinite music machine. An experiment on continuing randomness in the analog and digital domains.
.
.
.
.
.
.
.
source: mmidifan
2012年2月24日在柏林的 Feed Soundspace,Juju 和 Jordash 进行了现场即兴表演,由艺术家 Paul Skawinski 进行了投影。这个应用程序带来了他们的多层模拟录音和随机组合,是一个"无限音乐产生器"。