Юлия Фуллертон-Баттен
جوليا فولرتون-باتن
朱莉娅富勒顿巴滕
ג'וליה פולרטון-באטן
ジュリア·フラートン·バッテン
줄리아 풀러 턴 – 판자
Body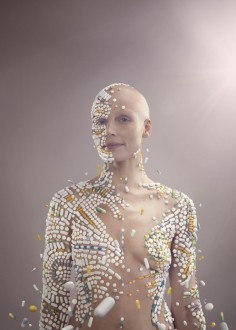 source: mostartists
Born in Bremen and brought up in Germany, USA and UK, Julia Fullerton-Batten studied photography at college before spending five years as assistant to a number of professional photographers engaged in a wide variety of genre.
Her photographic career started with an immediate success in the commercial industry. Since then, her personal and fine art work has been exhibited widely worldwide.
Central to her success as a photographer is Fullerton-Batten's ability to conceive and develop a them followed by close control and attention to detail in planning, pre-production, the shoot itself, and the post-production processes. She combines all of these skills with a unique technical ability – she uses complex lighting, often a mixture of natural and artificial light, and cross lighting. Her images have a slight air of oddness that makes them unexpectedly ambiguous.
Her images are in permanent collections in the National Portrait Gallery, London and the Musee d'Elysee, Lausanne (Switzerland).
Julia Fullerton-Batten lives in London with her family.
.
.
.
.
.
.
.
source: unmondemodernewordpress
Julia Fullerton-Batten est né en 1970 à Brême, en Allemagne. Son père était un photographe passionné, elle lui a alors emprunté sa caméra au début de son adolescence.
Elle s'est faite connaitre grâce à notamment deux séries de photos : la première étant « In between » où les modèles lévitent au milieu de scènes quotidiennes, comme détachés de la réalité. Et « Teenage stories », qui met en scène des adolescentes géantes dans un monde lilliputien.
Ce dernier travail, peut être considéré comme autobiographique dans le sens où l'auteur évoque pour beaucoup ses propres souvenirs et sentiments d'autrefois.
Pour son projet photographique « Teenage stories », Julia Fullerton-Batten, lauréate du Prix HSBC pour Photographie 2007, a été sélectionné selon le critère suivant « travailler sur des représentations du réel, sans exclusive de mode de traitement ou d'approche ».
Dans le monde imaginaire ou réel des jeunes filles de Julia Fullerton-Batten règne une instabilité perpétuelle, reflet de ce passage difficile entre l'enfance et l'âge adulte. Les "teenages" géantes, sont comme posées dans un environnement étrange et onirique dans lequel le temps semble s'être arrêté. Elles deviennent les actrices d'une scène totalement inventée par l'artiste mais aussi des personnages incarnant des pensées adultes qui ne sont pas les leurs…
Julia Fullerton-Batten fixe ces situations complexes comme des moments uniques, interpellant le spectateur et l'invitant à suivre ses jeunes filles dans une démarche à la fois très personnelle et surprenante.
.
.
.
.
.
.
.
source: focome
Julia Fullerton-Batten pertenece a una generación reciente de fotógrafos ingleses (aunque nació en Bremen, Alemania a una corta edad se mudó a Inglaterra) su trabajo no sería posible sin herramientas digitales de post-producción aunque esto no quiere decir que esa sea la parte elemental de su obra.
En su portafolio podemos encontrar muchas imágenes, las que más me han llamado la atención se encuentran en las secciones de trabajo personal y en sus proyectos. Quizás su trabajo más reconocido es el de la serie Teenage Stories, donde vemos a adolescentes gigantes que invaden ciudades hechas maqueta. Esta serie enseguida te hace recordar al clásico Alicia en el País de las Maravillas. En todas las imágenes vemos a adolescentes que se encuentran justo en ese punto donde están por convertirse en adultos rodeadas por un ambiente que si bien puede ser cotidiano para el resto de las personas, no lo es para ellas y no sólo es por cuestión proporcional, más bien la proporción es solo el elemento denotativo del discurso que a la vez invita a reflexionar sobre los valores connotativos que son los que le dan el valor a esta serie, aunque creo que no es una serie para nada feminista si aborda los problemas que tienen las mujeres a esa edad respecto a su entorno.
In Between es otro de sus proyectos, el más reciente, técnicamente vemos un trabajo más pulido, más cuidado, impecable y con una estética más acorde con el mundo de la fotografía editorial (en Teenage Stories ya se acercaba a este género) a diferencia de Teenage Stories en donde experimentaba con la escala, en In Between experimenta con la gravedad (ver: Denis Darzacq, Toby Burrows y Lissy Laricchia) y una vez más sus personajes son mujeres. Casi siempre están en interiores, en ambientes estéticamente nada cotidianos y que en su mayoría parece que fueron hechos o preparados especialmente para realizar las imágenes, son ambientes lujosos que bien podrían ser parte de un hotel o una mansión.
Julia ha trabajado en países como China, India, Chile, Australia, entre muchos más. Ha participado en campañas para marcas como Visa, Canon, McDonalds y ha trabajado para Vogue en Londres.
.
.
.
.
.
.
.
source: fujockawordpress
Julia Fullerton-Batten nasceu em Bremen, Alemanha, sua mãe alemã, seu pai Inglês. Passou sua infância na Alemanha e nos EUA antes de se mudar para o Reino Unido em 1986. Deixou a escola, decidindo iniciar carreira na fotografia. Depois de se formar na faculdade Berkshire de Arte e Design, onde ficou por cinco anos, desenvolveu sua arte de maneira original e iniciou seu estilo próprio e único de fotografia.
.
.
.
.
.
.
.
source: art-onru
Немка, постоянно проживающая в Англии, Юлия Фуллертон-Баттен (Julia Fullerton-Batten) создает необычные и очень женственные работы. Она пришла в мир профессиональной фотографии шесть лет назад, но за это время успела себя зарекомендовать настоящим мастером. Предлагаем вашему вниманию самую свежую работуфотографа из Лондона.