A Poster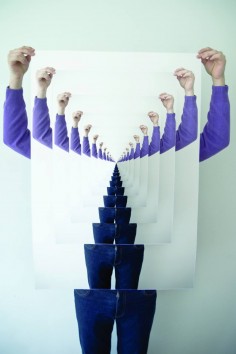 source: highlike
Work: Here, I am making a statement on the relation between graphic designers and their posters. This is a poster of me holding a poster of me holding a poster of me holding a poster.
.
.
.
.
.
.
.
source: jesuismonreveorg
I am an Italian Visual Artist and Graphic Designer based in Amsterdam and Berlin. In 2005 I graduated with a Bachelor's Degree in Visual Communication from ISIA (Florence, Italy) and Bauhaus University (Weimar, Germany). I continued my studies at the Sandberg institute of the Rietveld Academy, Amsterdam, where I gained my Master's Degree. In 2010 I was granted a scholarship for a three-month residency at JACA, Center for Contemporary Art in Belo Horizonte, Brazil. In 2012 I spent 3 months as a guest artist at BLUMEN, Leipziger Kunstverein, in Leipzig, Germany and, also, in the same year, I was invited for a residency of 3 weeks at The Guesthouse, in Cork, Ireland.
In my projects I like to explore interrelations between graphic design and contemporary art. My work is, in essence, multi-medial. It gives birth to media-specific artworks, in which I deal with the public space in the broadest sense. My role is to find the consequent match between the concept at the base of a project and its visual outcome. By readjusting objects within a context I try to open up a field for philosophical and political reflection on what I show, commenting on so-called normal life. In my creative process I draw inspiration from contemporary thinkers such as Giorgio Agamben and Paolo Virno. Whenever I start with a new project I aim at discovering the roots of its keywords. By studying the etymology of words I aim at standing face to face with an essential meaning that the word has carried for centuries.
Since 2007 I have been working as a Freelance Graphic Designer combining cultural related projects with self-initiated research in visual arts. Among the companies I have worked for are Slanted Magazine (Karlsruhe, Germany) and FRAME Publisher (Amsterdam, the Netherlands).
I am constantly looking for residencies and collaborations.