ماریکو موری
森万里子
МОРИ, МАРИКО
The ring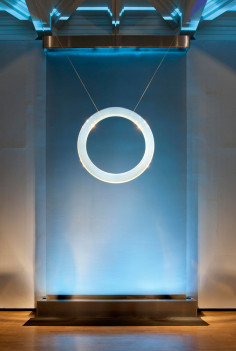 source: vogue
A sixth ring has been added to the Olympic Games, this time in the form of a site-specific installation from Japanese contemporary artist Mariko Mori. A collaboration between the Rio 2016 cultural program and Mori's Faou Foundation, this is the artist's latest project in her goal of installing a large public artwork on each inhabited continent. She has already installed Sun Pillar in a remote bay in Okinawa Prefecture, Japan.
Ring: One With Nature is a giant, luminous acrylic ring—made from the same acrylic as Sun Pillar—10 feet in diameter and weighing two tons without the supports, installed atop the 58-meter-tall Véu da Noiva ("Bride's Veil") waterfall, which is located about two hours outside of Rio. The ring will change color from blue to gold depending on the time of day, and during the winter solstice, it will align with the sun.
"Seven years ago I had a dream, and the vision was a golden ring on top of a waterfall," Mori told Vogue.com. The actual execution of the project was on a much shorter timetable. Mori began inspecting waterfalls in 2014, visiting roughly 30 before landing on a specific one, but due to behind-the-scenes installation issues, she had to find a last-minute replacement waterfall just five months ago. "When I got the news, I was in London, so I actually found the waterfall we ended up using via Google Images. Of course, I visited the site, but that was how I originally found it," Mori explains.
Difficult as the logistics were, once a location was confirmed, the real work began. "There were so many engineers used to create the cantilever that holds up the ring," Mori said. "Topographical, environmental, hydrological, and mechanical engineers. But because we developed this project since 2014 and had to change the location in March, time was still the biggest challenge." The ring is held up by a massive cantilever, and it's designed to last more than 1,000 years.
Mori has lived in New York since 1992. She studied art in the Whitney Museum of American Art's Independent Study Program, and her work has been acquired by the Museum of Modern Art, the Guggenheim Museum, and the Centre Pompidou in Paris. The ring project is one of the works sponsored by Celebra, the cultural program of the Rio Olympic Games. At the games, Mori also ran the Olympic torch before the opening ceremony last Friday.
"Athletes contribute to the evolution of the physical aspect of humanity," said Mori. "And artists try to contribute to the creative aspects of humanity—but for both, it is about going beyond their limits to break records, especially to break their own records."
.
.
.
.
.
.
.
source: marieclaireit
Da adolescente sfilava come modella e sognava di diventare una stilista affermata. Oggi, a 47 anni, Mariko Mori è una star dell'arte contemporanea. Disegna come pratica meditativa e suoi lavori spaziano dalle video performance – in cui interpreta una cyber-geisha – a installazioni futuribili di Land Art e monoliti ultrascientifici, che cambiano colore grazie ai neutrini atmosferici. A Perth mette in scena le sue opere più coinvolgenti, per fermarsi a riflettere sui problemi ambientali e su come vivere in armonia con gli altri popoli (nella foto, Ring, 2012).
.
.
.
.
.
.
.
source: artgallerywagovau
Born in Tokyo in 1967, Mariko Mori first made an impact on the international art scene in the early-mid 1990s. Her perfectly-formed and powerfully ambitious sculptural and photographic work of that period was an immediately accessible reflection on the ways our identities were being shaped by various technologies and the philosophies driving them.
Over the last decade, Mori's practice has gradually shifted in focus. Moving away from the urban realm, she has started exploring the connections between the human and other worlds in increasingly universal ways. Rebirth is the considerable synthesis of her expanded artistic attention and her first solo show in Australia.
.
.
.
.
.
.
.
source: skny
Mariko Mori is an internationally acclaimed artist. Her practice explores universal questions at the intersection of life, death, reality and technology. Her works has been acquired by museums and private collectors worldwide. Mori gained recognition for her interactive installation, Wave UFO, which debuted at Kunsthaus Bregenz, in Bregenz (Austria) in 2003. The installation was subsequently shown in New York (USA) with Public Art Fund, Genoa (Italy), and was included in the 2005 Venice Biennale (Italy). It was also featured in "Oneness", a survey of Mori's work that opened at the Groninger Museum (Netherlands), then traveled to the ARoS Aarhus Kunstmuseum, in Aarhus (Denmark), the PinchukArtCentre, in Kyiv (Ukraine). Oneness was also exhibited at Centro Cultural Banco do Brasil, in Brasília, Rio de Janeiro and São Paulo (Brazil) in 2011.
Mori's recent large sculpture includes Sun Pillar (2011). This sculpture was the very first installation realized for the project of Faou Foundation in the Continent of Asia in Miyako Island of Okinawa in Japan with the mission to bring attention to Earth-consciouness. Faou Foundation was founded by Mori in 2010 as an educational and cultural non-profit organization to dedicate a series of harmonious, site-specific permanent art installations to honor the nature of six habitable continents. The upcoming Faou Foundation permanent installation entitled Ring will be installed over a beautiful waterfall at Visconde Mauá, in the city of Resende, not far from Rio de Janerio, Brazil in 2016.
Mori's solo exhibitions have been exhibited throughout the world, including Royal Academy of Arts, in London (United Kingdom), Japan Society, in New York (USA), Espace Louis Vuitton Tokyo (Japan), The Museum of Contemporary Art, in Tokyo (Japan); The Brooklyn Museum of Art, in New York (USA); The Museum of Contemporary Art, in Chicago (USA); The Serpentine Gallery, in London (England); The Dallas Museum of Art, in Dallas (USA). Several renowned museums have presented Mori's solo exhibitions, as well as acquired Mori's works in their collections, including Centre Georges Pompidou, in Paris (France); The Prada Foundation, in Milan (Italy); The Museum of Contemporary Art, in Chicago (USA); The Los Angeles County Museum of Art, in Los Angeles (USA). The PinchukArtCentre, in Kyiv (Ukraine); The ARoS Aarhus Kunstmuseum, in Aarhus (Denmark), The Guggenheim Museum, in New York (USA);The Israel Museum, in Jerusalem (Israel); The Museum of Modern Art, in New York (USA) have Mori's works in collection.
Mori has received various awards, including the prestigious Menzione d'onore at the 47th Venice Biennale in 1997 (for "Nirvana") and the 8th Annual Award as a promising Artist and Scholar in the Field of Contemporary Japanese Art in 2001 from Japan Cultural Arts Foundation.
Mariko Mori lives in London, New York and Tokyo.