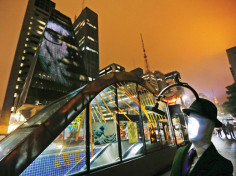 source: fileorgbr
Abstract:
Inspired by "The Hero with a Thousand Faces", by Joseph Campbell, "Monomito" is a multimedia performance in which the performer crosses the public space wearing an apparatus that recognizes visual patterns of human faces, "kidnapping" them and projecting them in the mask of the performer, as well as other places in the space he crosses. For the presentation in FILE, the LED panel of the Galeria de Arte Digital SESI-SP, at Paulista Avenue, will exhibit in real time the faces captured by the performer, establishing a dialog between the monumental and the mundane.
Biography:
Paloma Oliveira has a master's degree in Visual Arts from Universidade de São Paulo. She is a developer of social empowerment actions, of multimedia. She is a researcher, educator and cultural producer. She looks for convergence and applications for the digital technologies on the body, in the arts and the urban space. Currently she is interested in aesthetical possibilities and corporal experiments mediated by biophysical (electronic) sensors and biosensors (microorganisms).
Mateus Knelsen is graduated in Digital Design from Universidade Anhembi Morumbi, in Sao Paulo, and is a master's student of Interdisciplinary Poetics in Universidade Federal do Rio de Janeiro. He acts as an artist, programmer, designer and researcher of multimedia languages. He also acts as a lecturer on workshops about media and technological processes, open source culture, creative programming and interactive audiovisual.
.
.
.
.
.
.
.
source: fileorgbr
Abstract:
Inspirado no "Herói de mil faces", de Joseph Campbell, "Monomito" é uma performance multimídia em que um performer cruza o espaço público vestindo um aparato que reconhece padrões visuais de rostos humanos, "sequestrando-os" e projetando-os na máscara do performer, assim como em outros lugares do espaço por onde cruza. Para a apresentação no FILE, o painel de LEDs da Galeria de Arte Digital SESI-SP, na Avenida Paulista, exibirá em tempo real as faces capturadas pelo performer, estabelecendo um diálogo entre o monumental e o mundano.
Abstract:
Paloma Oliveira é Mestra em Artes Visuais pela Universidade de São Paulo, desenvolvedora de ações de empoderamento social, desenvolvedora multimídia, pesquisadora, educadora e produtora cultural. Busca convergências e aplicações das tecnologias digitais no corpo, nas artes e no espaço urbano. Atualmente se interessa pelas possibilidades estéticas e experimentos com o corpo mediado por sensores biofísicos (eletrônicos) e biossensores (micro-organismos).
Mateus Knelsen é formado em Design Digital pela Universidade Anhembi Morumbi de São Paulo e mestrando em Poéticas Interdisciplinares pela Universidade Federal do Rio de Janeiro. Atua como artista, programador, designer e pesquisador de linguagens multimeios. Atua também como ministrante de oficinas sobre meios e processos tecnológicos, cultura open source, programação criativa e audiovisual interativo.