أوسكار كارفالو
奥斯卡卡尔瓦洛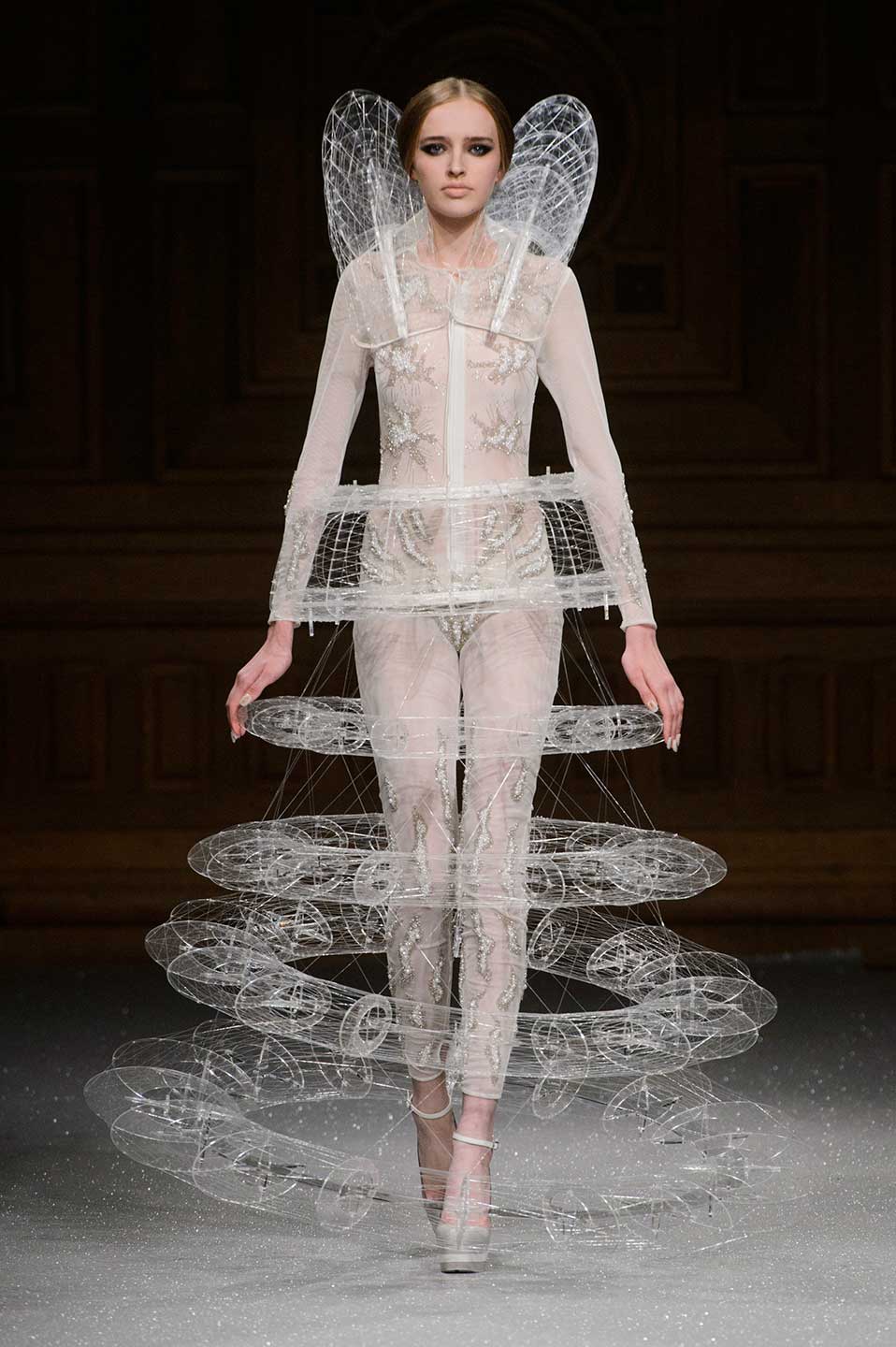 source: oscarcarvallo
Oscar Carvallo was born in Caracas, Venezuela. As a child, he was profoundly influenced by his family via a picture of his grandparents, thus evidencing his inclination towards the arts and design.
when he decided to join the world of fashion, guided by the renowned French "couturier" Guy Meliet, disciple of Christian Dior, who had established in Caracas and from whom he learned about the techniques of dressmaking.
During his early years, Carvallo developed collections that reflected how he mastered the art of dressmaking and he dressed the most elegant ladies in Caracas and Latin America; in the meantime, he was scheduling his departure to undertake his postgraduate studies in fashion in the Domus Academy of Milano, Italy
Settled in Milano, he made a pause in his climbing career in order to complete his professional training, city this where he stayed until 2003 when he completed his studies. During this time, Carvallo worked in the production of the great fashion shows of the renowned Italian firms Roberto Cavalli and Vivienne Westwood.
Oscar decided to settle in the fashion capital of the world, Paris, where he took on the challenge of launching his brand, Oscar Carvallo Paris. A year later, he presented his Prêt à Porter collection for the first time in the Fashion Week. The style of these collections was sophisticated, feminine, ethnic and inspired in Latin American cultures and beliefs, and thus, his style stood out in French fashion.
In 2006, he opened his first Prêt à Porter boutique in Paris, in 10 Rue Cambon, exhibiting a unique style and quality, all of his collections bearing the seal of Made in Italy, and securing his place further in the international fashion market.
In the year 2011, he established his first atelier in Paris, in the famous Rue du Faubourg Saint Honoré , thus developing exclusive "Haute Couture" collections for customers seeking exclusivity and chic in French fashion.
In January 2013, Oscar Carvallo held his first showcase during the week of Haute Couture in Paris, presenting his "Femme Poisson" collection, inspired in the organic shapes of nature, the motion of the sea and feminine elegance. In July of this same year, he launched his Eagle Eye collection.Desfile02
In addition to his involvement in fashion, Oscar Carvallo was closely related to the world of art. In 2008, Oscar took his first approach towards Master Carlos Cruz-Diez by integrating the master's physichromies in the fabrics that gave life to the collection he launched that year, which he called Un Voyage Cinétique ("A Kinetic Voyage"), in an event in the Musée des Arts Décoratifs in Paris, which he held together with this artist.
In January 2014, they again worked together and thus, Voyage Cinétique II was born, a collection in which combinations of color and motion dominated the fashion shows of the week of Haute Couture in Paris. Oscar joined the kinetic universe in an intense manner, wherein the works became fabrics and walking works of art with new objects of inspiration, such as medieval suits of armor, futurism, organic shapes, technology and the nostalgia of French lace.
In July 2014, Oscar Carvallo launched his Fall/Winter 2014 couture collection, in Paris, under the name Save Our Souls (SOS). The innovation in the use of novel materials stood out greatly in Carvallo's designs, using accessories made out of genuine bullets and cartridges. Carvallo´s collection was closed with the participation of plastic artist Pancho Quilici, who used a body structure to invite those present to think about the role of clothing as a survival shelter.
In the year 2015, Oscar Carvallo decided to develop the Ready to Wear line inspired in his Parisienne Haute Couture collections, and he joined this market with his first flagship store in the Design District of the city of Miami. Here, he offers haute couture pieces and a universe in Ready to Wear clothing.
.
.
.
.
.
.
.
source: oscarcarvallo
Oscar Carvallo nace en Caracas, Venezuela. De pequeño tuvo una gran influencia familiar que partió de la imagen de un retrato de sus abuelos, demostrando su preferencia por las artes y el diseño.
Se graduó de abogado para continuar la tradición familiar y fue justamente cuando decidió entrar en el mundo de la moda iniciándose de la mano del reconocido "couturier" francés Guy Meliet, discípulo de Christian Dior quien estaba establecido en Caracas y de quien aprende de las técnicas de la costura.
Carvallo desarrolló durante sus primeros años colecciones mostrando así el dominio de la costura y vistiendo así a las damas más elegantes de Caracas y Latinoamérica. Planificando ya su partida para realizar sus estudios de postgrado en moda en la Domus Academy de Milano, Italia.
Instalado en Milano hace un paréntesis en su ascendente carrera para completar su formación profesional donde permanece hasta el 2003 que finaliza sus estudios. Durante este tiempo, Carvallo trabaja en la producción de los grandes desfiles de las reconocidas firmas italianas Roberto Cavalli y Vivienne Westwood
Oscar decide instalarse en la capital mundial de la moda, Paris, donde asume el reto de introducir su marca Oscar Carvallo París. Un año después, estaría presentando por primera vez su colección Prêt à Porter en la Fashion Week. El estilo de las colecciones es sofisticado, femenino, étnico e inspirado en culturas y creencias latinoamericanas, resaltando así su estilo en la moda francesa.
En 2006 abrió su primera boutique Prêt à Porter de Paris, en la 10 Rue Cambon, mostrando un estilo y una calidad única, realizando todas sus colecciones con el sello de Made in Italy, entrando más en el mercado internacional de la moda.
En el año 2011 instala su primer atelier en París, en la famosa Rue du Faubourg Saint Honoré , desarrollando así colecciones exclusivas de "Haute Couture" para una clientela que busca la exclusividad y el chic en la moda francesa.
En Enero del 2013, Oscar Carvallo se presenta por primera vez durante la semana de la Haute Couture de París, presentando su colección "Femme Poisson", inspirada en formas orgánicas de la naturaleza, el movimiento del mar y la elegancia femenina. Ese mismo año presenta en Julio su colección Eagle Eye.
Oscar Carvallo , además de sus actividades en la moda, ha estado muy relacionado con el mundo del arte. En 2008, Oscar tiene un primer acercamiento con el Maestro Carlos Cruz-Diez al integrar las fisicromías del maestro en las telas que dieron vida a su colección de aquel año, que llamó Un Voyage Cinétique ("Un viaje cinético") para un evento en el Musée des Arts Décoratifs de París, que realizó junto al artista.
En Enero 2014 volvieron a trabajar juntos y así nació Voyage Cinétique II, una colección en la que los juegos de color y movimiento reinaron la pasarela de la semana de la Haute Couture de París. Oscar entra en el universo cinético de una manera intensa, donde las obras se convierten en telas y en obras de arte que caminan con nuevas tendencias de inspiración como las armaduras medievales, el futurismo, las formas orgánicas, la tecnología y la nostalgia del encaje francés.Voyage Cinetique II
En Julio 2014, Oscar Carvallo lanzó su colección couture Otoño/Invierno 2014, en París, bajo el título Save Our Souls (SOS). La innovación en el uso de materiales novedosos se destaca mucho en los diseños de Carvallo, utilizando accesorios realizados con balas y cartuchos auténticos. La colección de Carvallo finalizó con la participación del artista plástico Pancho Quilici, quien invitó a reflexionar a través de una estructura corporal acerca del papel de la vestimenta como refugio de supervivencia.
En el año 2015, Oscar Carvallo decide desarrollar la línea Ready to Wear inspirado en sus colecciones de Haute Couture Parisina, entrando en este mercado con su primera flagship store en el Design District de la ciudad de Miami. Allí ofrecerá piezas de alta costura y un universo en el Ready to Wear.
.
.
.
.
.
.
.
source: oscarcarvallo
Oscar Carvallo nait à Caracas, Vénézuela. Enfant, il fut très inspiré par la photo de mariage de ses grands parents ce qui fit naître en lui une attirance pour les arts et le dessin.
Après l'obtention de son diplôme d'avocat, qui était une véritable tradition familiale, il décida de se lancer dans le monde de la mode. Guy Meliet, l'ancien premier d'atelier de Christian Dior, qui était installé à Caracas, lui apprit toutes les techniques de la couture.
Oscar Carvallo a su se faire connaître les premières années en présentant des collections Couture aux femmes les plus élégantes de Caracas et de l'Amérique Latine. Il décide ensuite de partir en Italie, à la Domus Academy de Milan pour poursuivre ses études sur la mode.
Installé à Milan, il fait une parenthèse dans sa carrière en pleine ascension pour compléter sa formation en mode jusqu'à l'obtention de son diplôme en 2003. Durant cette période Oscar Carvallo travailla dans l'équipe de production de grands défilés comme la Maison italienne Roberto Cavalli et Vivienne Westwood.
Paris-FranciaOscar décide de s'installer à Paris, la capitale mondiale de la mode, pour ouvrir sa Maison "Oscar Carvallo Paris". Un an après il présente sa première collection Prêt à Porter durant la Fashion Week. Le style des collections est à la fois sophistiqué et féminin et s'inspire des cultures et croyances Latino-Américaines , tout en y apportant le style de la mode française.
En 2006, il ouvre sa première boutique de Prêt à Porter à Paris, au 10, rue Cambon, présentant un style et une qualité unique. Toutes les collections sont estampillées du Made in Italie. La marque rentre de plus en plus dans le marché international de la mode.
En 2011, il installe son premier atelier à Paris, dans la fameuse Rue du Faubourg Saint Honoré. Il crée ainsi des collections "Haute Couture" exclusives pour des clientes qui recherchent des silhouettes uniques au chic à la française.
En janvier 2013, Oscar Carvallo défile pour la première fois durant la semaine de la "Haute Couture" à Paris. Il présente sa première collection "Femme Poisson", inspirée des formes organiques de la faune et de la flore marine tout en y apportant élégance et féminité. Cette même année il présente en juillet la collection "Eagle Eye".
Oscar Carvallo, tout en travaillant dans le monde de la mode a gardé une attirance pour l'univers de l'art.
En 2008, il collabore une première fois avec le maître de l'art cinétique , Carlos Cruz-Diez. Il intègre alors les "fisicromías" du maestro dans les tissus ce qui donne une vie à la collection appelée "Voyage Cinétique". La présentation de cette collection se fait au Musée des Arts Décoratifs à Paris en compagnie de l'artiste.
En janvier 2014, ils travaillèrent à nouveau ensemble ce qui donna naissance à la collection "Voyage Cinétique II", une collection dans laquelle les jeux de couleurs et de mouvement ont marqué les défilés de la semaine de la Haute Couture à Paris. Oscar entra dans l'univers cinétique d'une manière intense, où les oeuvres se convertirent en tissus puis en oeuvres d'art explorant de nouvelles inspirations comme les armures médiévales, le futurisme, les formes organiques, la technologie et la nostalgie de la dentelle française.
En juillet 2014, Oscar Carvallo lance sa collection Automne-Hiver 2014 à Paris, sous le nom "Save Our Souls" (SOS). Très innovante cette collection utilise des matériaux nouveaux qui se différencient du style Carvallo, utilisant des accessoires avec des balles et des cartouches authentiques. La collection Carvallo se termine par une silhouettes réalisée avec l'artiste plasticien Pancho Quilici, qui nous invite à réfléchir sur une structure corporelle faisant figure de refuge de survie.
En 2015, oscar carvallo décide de développer une ligne de prêt à porter inspirée de ses collections haute couture parisienne. il rentre dans ce marché en installant sa première boutique à design district à miami. ainsi il présente des silhouettes de haute couture et un univers prêt à porter.
.
.
.
.
.
.
.
source: xfashionphotoru
Коллекция Haute Coutre Oscar Carvallo осень-зима 2014-2015, представленная на неделе моды в Париже, была названа «Спасите наши души». Она является призывом для искупления душ людей, которые, как в Венесуэле, борются за защиту своих прав и свободы. И поверьте, коллекция оправдала свое название. Очень чувственная и мягкая, но при этом сильная и проникновенная.
Цвета, которые были использованы, очень тонко подчеркнули эмоциональную сторону коллекции. Это были мягкие пастельные тона, серый, жемчужные вкрапления и парад золотых оттенков.
Крик о помощи, нежность, доброта, сочувствие и переживание….спасение человеческих душ в исполнении Оскара Карвелло в коллекции Haute Coutre Oscar Carvallo осень-зима 2014-2015.