Currents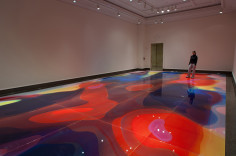 source: visuallnet
Peter Zimmermann is one of those artists who manage to find their own unique style and whose works are easily recognisable. His style is undoubtedly connected with a special technique, which features a combination of computer graphics and painting. Peter broadly uses capabilities of computer graphic software (principally Photoshop), making it an essential part of the creative process. Using different graphic algorithms, he modifies the source image until it becomes unrecognizable, abstract.
On making this transformation, the artist transmits the resulted image on canvas by superimposing a lot of translucent brightly-coloured layers of epoxy resin. Before being solid, the fluid epoxy resin transforms itself during the process of application. In spite of the fact that a direction has been given by the artist, the result is never completely predictable. The material adds new dimension to Peter's images: spreading over the white surface of the canvas, hardened epoxy resin gives the viewer an impression that the interior light shines through the translucent layers and intensifies the colours.
.
.
.
.
.
.
.
source: littlelimpstiff14u2tumblr
Peter Zimmermann is a German artist who has made colorful, shiny resin his hallmark since the late 1990s. He works using texts and images, which he enlarges and modifies thanks to a host of computer manipulations until they turn into abstract images. He then applies numerous strata of dyed acrylic resin to his medium, turning the whole into a hybrid body of light and flowing colors that seem totally palpable.
Peter Zimmerman is one of the great painters of our time and is represented around the world by Emmanuel Perrotin, the famous gallery owner. His works are shown in prestigious private and public collections and can be found at the Pompidou Center, the Musée d'Art Moderne de la Ville de Paris, the Fonds National d'Art Contemporain or the MoMA in New York.