Mizukagami Water Mirrors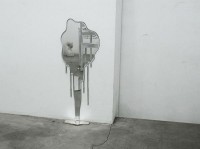 source: interiorholic
Mizukagami Water Mirrors are the beautiful creations by the agency Rikako Nagashim and acrylic designer Hideto Hyoudou. These mirrors are not only beautiful functional accessories that you can enhance your living spaces with. Mirrors and water share a great common property, they both can reflect the surroundings but the liquid can also take various shapes. Combining these two qualities Rikako Nagashim and Hideto Hyoudou have created beautiful water-like mirrors that can add a lot to any interior design.
Using mirrors in interior design considerably enhance your home decor. They add to aesthetic side of it as well as reflect the surroundings making your living space look bigger than it really is. Creative mirrors can be great for wall decor even if you don't need to enhance your home space.
Mirrors can look neutral and yet add a subtle stylish touch to the home decor while bold framing should fit within the interior design. Mizukagami Water Mirrors looks really unusual and beautiful. Shaped after water puddles some of which are stream down from the walls or table.
These are absolutely decorative and unusual accessories that look both jazzy yet natural due to water's structure and forms:
"The pieces were photographed in black and white, which complements the neutral tone of the mirrors. Despite the fact that the Mizukagami Water Mirror pieces are bold in design, when paired with the right decor they are not as loud or overpowering as you might think."
Mizukagami Water Mirrors are not only for walls as seen from the photos. They can be used in floor and table design.
.
.
.
.
.
.
.
.
source: ideamsg
镜子可以成为房间的有趣装饰,特别是它们看起来变成了一系列融化状液体形态的时候。设计师RIKAKO NAGASHIM
和 Hideto Hyoudou为我们带来的这些奇怪的镜子叫做Mizukagami Water Mirror。这些图片采用黑白方式拍摄,
这与镜子素色纯净的色调相辅相成。抛开一些实际应用,Mizukagami Water Mirror的设计大胆而新颖,把它们
布置合理以后你会发现它们超乎想象的魅力与艺术气质。
.
.
.
.
.
.
.
source: savdrngmihanblog
آینه ها می توانند برای دکوراسیون هر اتاق وسایل جالبی باشند به خصوص اگر مانند این آینه های مایع که Mizukagami Water Mirror نام دارند، باشند. این آینه ها که مانند لکه های آب به نظر می رسند، توسط آژانس Rikako Nagashim and a, celle dcrylic طراحی شده اند
.
.
.
.
.
.
.
source: orgone-design
Voici une collection de miroirs qui peut rappeler certaines productions de Robba Edition. Il s'agit de miroirs contemporains aux formes liquides conçues par Rikako Nagashim et Hideto Hyoudou. L'illusion est complète, les miroirs d'eau ont véritablement une apparence liquide. Avec une caractéristique encore inédite d'après moi'intégrer des coulures à angle droit. Les miroirs d'eau de Nagashim & Hyoudou peuvent être posés sur des murs, des tables ou à même le sol.
.
.
.
.
.
.
.
source: livingcz
Zrcadla jsou již po generace neodmyslitelnou součástí našich interiérů. Pojďte se podívat, jak netradičně však mohou taková moderní zrcadla vypadat.
Designová řada zrcadel Mizukagami je skutečně velmi originální novinkou. Při pohledu na tyto jednotlivé kousky se člověku vybaví abstraktní krajiny z obrazů Salvadora Daliho. Tato kapalná zrcátka navrhla reklamní agentura Rikako Nagashim, konkrétně designér Hideto Hyoudou.
Pro umělecké účely byla zrcadla fotografována v prostředí výslovně černobílých a šedých tónů. To aby byly podtrženy neutrální tóny samotných odrazových ploch. Díky tónovanému světlu pak zrcátka vypadají jako rozlitá rtuť. I když by se před takovým zrcadlem člověk asi jen těžko prohlížel, coby designový doplněk je to skutečně velkolepý počin, že?
.
.
.
.
.
.
.
source: andthisisreality
Estes espelhos que ganham o seu nome de forma natural pela sua forma são uma criação de Rikako Nagashim e Hideto Hyoudou.
Os espelhos são uma forma bastante comum de decoração, e os Mizukagami Water Mirrors são mesmo uma peça arrojada para pôr na sala que certamente vão suscitar alguns comentários. Estas peças vêm em várias formas, sempre com o mesmo conceito: uma "poça" de água a escorrer ou pingar, que pode ser complementada com alguns efeitos, como uma torneira ou uma garrafa de água derramada ao lado.
Seja como for, estes espelhos estão a "transbordar" de estilo.
.
.
.
.
.
.
.
source: elchiltepe
Los espejos pueden ser parte interesante de la decoración de un cuarto o ambiente, especialmente si tienen formas estramboticamente liquitas y fuera de lo común como estos espejos llamados Mizukagami Espejos de agua, diseñados por Rikako Nagashim y Hideto Hyoudou. Aunque sean piezas que pueden estar de por si solas, como piezas principales, son perfectos para darles un toque de originalidad combinándolos con los accesorios correctos y ser parte de una composición central. Interesantes!