Art of Tomorrow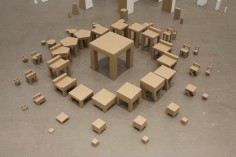 source: balticartcenter
My sculptures and installations are based upon fiction and speculations. The works are often visual "what-if?" scenarios mixing up ideas of pasts and futures, where sculptures (or whole exhibitions) are imagines to be either in states of artificial decay; still unfinished or even yet to be made in some undefined future. Often, the works are constructed from simple materials, which gives the objects a feeling of being temporary models or props.
.
.
.
.
.
.
.
source: aptglobalorg
Tommy Støckel (b.1972 Copenhagen, Denmark) received a diploma in 1998 from The Royal Danish Academy of Fine Art, Copenhagen.
Selected exhibitions include Korridor, Berlin, ROR Galleria, Helsinki, Overgaden – Institute of Contemporary Art, Copenhagen, Galerie Enja Wonneberger, Kiel, Galleri Søren Houmann, Copenhagen. He is represented by Rena Brasten Gallery in San Francisco.
Tommy Støckel lives and works in Berlin.
.
.
.
.
.
.
.
source: deacademicru
Tommy Støckel (* 1972 in Kopenhagen) ist ein dänischer Künstler (konzeptionell mit Skulptur, Installation und Collage).
Støckel studierte von 1992 bis 1998 an der Royal Danish Academy of Fine Art in Kopenhagen.
Für seine Arbeiten produziert er Papiercollagen, geometrische Skulpturen und Installationen. Dabei benutzt er u.a. die Gelben Seiten und Kataloge von Modellfiguren.
.
.
.
.
.
.
.
source: paperdreamblog
Tommy Støckel é um artista que tem um trabalho muito diferente do que estou acostumada a ver por aí. Ele trabalha com padrões e repetição de objetos que me fazem lembrar de Lego. Adoro as cores que ele usa, tão atraentes e divertidas.