Birds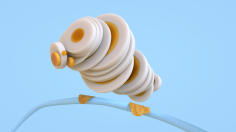 source: newsmultru
Сложно сказать зачем был сделан этот короткометражный мультфильм. Он демонстрирует полное отсутствие сюжета и смысла всего происходящего и единственное, что может показать, это мастерство аниматора, создавшего этот ролик. Это больше похоже на студенческую работу, нежели на законченный продукт анимационной студии. Это работа-фантазия на тему того, что если бы птицы были сделаны из того, что их окружает и определяет их жизнь: гнёзда, яйца, червяки, скворечник, ветки, глина… Концепция, художник-постановщик, дизайн, анимация, производство: Zeitguised, Matt Frodsham, Chris Hoffmann and Katha Niedermeijer Ведущий аниматор: Matt Frodsham Музыка: Marian Pramberger, Matt Frodsham.
.
.
.
.
.
.
.
source: dasfilter
Nester, Eier, Würmer, Skelette, Blüten, Cornflakes – was dem Vogel in seinem Leben so begegnet, kommt hier auf den Ast.
Matt Frodsham, Chris Hoffmann und Katha Niedermeijer von Zeitguised aus Berlin haben für ihren CGI-Kurzfilm die Vogelwelt auseinandergedröselt und in Piepmatzform (mehr oder minder je Ding) wieder zusammengefügt, ein "lighthearted essay on contextualized characters" haben sie ihre Arbeit untertitelt. Das Ergebnis ist teils putzig, teils schräg anzusehen, wenn der Wurm sich in Vogelform ringelt oder der Inhalt des Meisenrings zu zappeln beginnt.
.
.
.
.
.
.
.
source: wiredit
Volatili bizzarri, ritmo in levare e tanto colore nel video di animazione dello studio Zeitguised.
Una rondine non fa primavera. Il coloratissimo video dello studio artistico Zeitguised di Berlino, invece, quasi ci riesce.
Complice la simpatica canzone reggae di sottofondo e il balletto dell'uccello ossuto al secondo 13, Birds è un saggio sul mondo dell'animazione piacevole quanto un episodio di Peppa Pig.
Se il video vi lascia perplessi, lasciatevi guidare dalle parole dello studio Zeitguised: la loro missione è «emancipare la fantasia dai vincoli del mondo reale».
.
.
.
.
.
.
.
source: ejezetacl
El estudio de animación con sede en Berlín Zeitguised, redefine la concepción de todo lo relacionado con el mundo de las aves en su nuevo corto "Birds".
Animado en su mayoría por Matt Frodsham, Birds es un ensayo sobre personajes contextualizados, donde la reconstrucción sigue a la deconstrucción.
"El film rescata la esencia de las pequeñas criaturas aladas, y la camufla detrás de las extrapolación irreal de objetos de la vida diaria". Cada ave ha sido animada con un par de patas, que representan el nexo con el concepto de "ave". Sus cuerpos, sin embargo, están compuestos por una serie de objetos diferente, tales como pétalos de flores, huevos cortados en rodajas, cereales, y hasta una casa de pájaros!
.
.
.
.
.
.
.
source: lesinrocks
Réalisé par le studio d'animation Zeitguised, "Birds" explore la zone frontalière entre l'abstraction et le réalisme numérique. Leur travail poétique joue avec la culture de mashup de l'Internet, jumelé avec le potentiel des outils d'imagerie numérique.
.
.
.
.
.
.
.
source: awn
Berlin-based animation studio Zeitguised redefines the conception of all things aviary with a new short, Birds.
Animated primarily by Matt Frodsham, Birds is a lighthearted essay on contextualized characters, with reconstruction following deconstruction. The animated short "seizes the essence of the tiny winged creatures and camouflages it beneath surreal extrapolations of everyday objects," according to Vice's The Creators Project. Each bird is animated with a pair of feet on which to hop about energetically, but one is made of flower petals, one is made of sliced eggs and corn flakes, and one is literally a birdhouse.
Zeitguised describes itself as "the irregular twin of Zeitgeist Imagineering: high gloss art school 3D punk that blends complex geometries, surreal objects, artificial behaviors and the recycling of digital readymades into a distinct hallucinatory narration style," according to their about page..
.
.
.
.
.
.
source: vimeo
A lighthearted essay on contextualized characters.
Reconstruction follows deconstruction.
Concept, Art Direction, Design, Animation, Production: Zeitguised
with Matt Frodsham, Chris Hoffmann and Katha Niedermeijer
Lead Animation: Matt Frodsham
Music: Marian Pramberger with Matt Frodsham
.
.
.
.
.
.
.
source: facebook
O escultor e designer de moda Jamie Raap se juntou com o arquiteto Henrik Maule para criar o projeto intitulado ZEITGUISED. A dupla inventou um universo paralelo, misturando arte digital 3D e fotografia, inspirando-se em suas experiências com a arquitetura, escultura e o mundo da moda.
ZEITGUISED é um mundo exuberante e futurista. Garotas sensuais e esculturas orgânicas digitais se misturam para trabalhar em parceria com projetos de motion design e editoriais de moda.
.
.
.
.
.
.
.
source: paranoidbr
Fundado em Londres em 2001, Zeitguised é um estúdio alemão que mistura em suas produções tecnologia 3D, cores vibrantes, geometrias complexas ao estilo de narração surrealista. Toyota, Verizon, Mercedes, MTV são marcas que já contrataram o estúdio para criar universos estéticos oníricos. Entre seus maiores sucessos está o curta Peripetics, encomendado para a abertura da galeria Zirkel, no qual novas formas de cor e movimento espacial protagonizam a produção.
.
.
.
.
.
.
source: vimeo
Zeitguised are a contemporary art studio exploring the frontier zone between digital abstraction and realism. Their ambiguously poetic work draws from the infinite recombination capacity of the internet's crazed mashup culture, paired with the manipulation potential of digital imaging tools.
Using seductive 3d animation, Zeitguised creates post-narrative modes of structural transformations, evoking mental states of manic order and complex instability. Precarious color relations and dysfunctional shape agglomerations inform sequential transfigurations. By playing with conventions of digitally manufactured images, the fake is emancipated from authenticity.
.
.
.
.
.
.
.
source: vimeopro
ZEITGUISED HAVE BEEN PUSHING THEIR OWN RULES ONTO COMPUTER AIDED ART BY CREATING A UNIVERSE PARALLEL TO MOTION GRAPHICS, DRAWING HEAVILY FROM FASHION PHOTOGRAPHY, SCULPTURE, INSTALLATION AND ARCHITECTURAL SET DESIGN SINCE THEIR INCEPTION IN 2001.
HIGH GLOSS ART SCHOOL 3D PUNK BLENDS WITH COMPLEX GEOMETRIES, SURREAL OBJECTS, ARTIFICIAL BEHAVIORS AND THE RECYCLING OF DIGITAL READYMADES INTO THEIR DISTINCT HALLUCINATORY NARRATION STYLE.
THEIR WORK HAS APPEARED IN COMMERCIALS, INSTALLATIONS, FASHION MAGAZINES AND MUSIC VIDEOS, AND HAS BEEN COLLECTED IN GALLERIES FROM NEW YORK TO BARCELONA.