17 SCREENS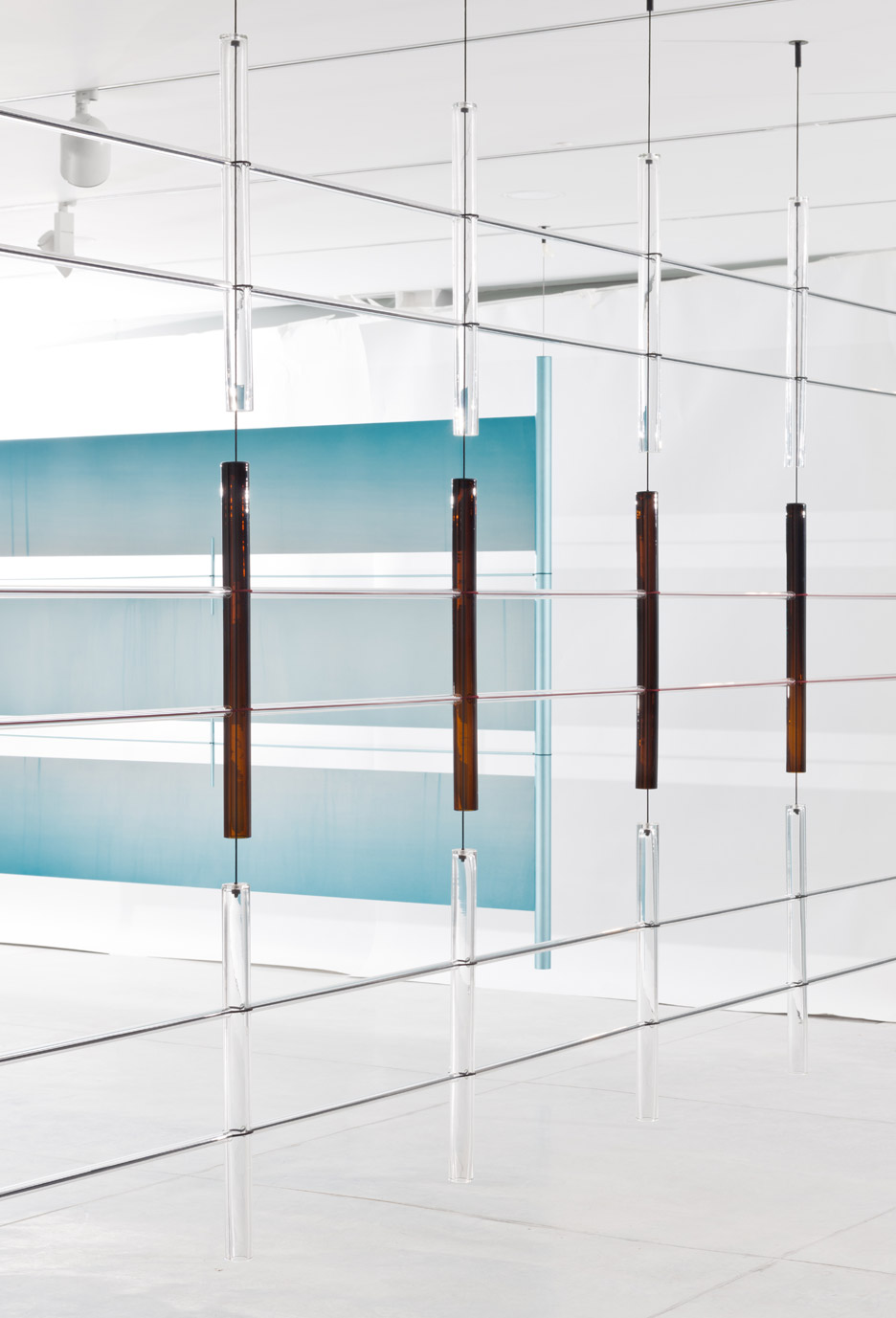 source:dezeencom
The Tel Aviv Museum of Art is hosting an exhibition of 17 hanging screens created by French design duo Ronan and Erwan Bouroullec.
The 17 Screens collection of partitions is the result of a year of research and development by the pair, and brings together traditional craft methods with technology such as 3D printing.
The duo worked with French ceramic craftsmen, as well as tile brand Rombina and glass specialist Glas Italia.
The pieces are based on line drawings by Ronan and Erwan Bouroullec, and partly inspired by Ronan's visits to Bretagne to observe natural shapes and formations – including trees, mildew, and plants.
The duo has used glass, aluminium and ceramic rods to form screens arranged in geometric configurations. Some pieces divide up sections of the gallery, while others encircle entire areas. Flashes of colour are created by regularly-placed coloured sections.
The brothers have also designed hangings made of irregularly-placed tubes, including a piece constructed from wooden twigs linked together by 3D-printed connectors.
The duo has also used fabric in the exhibition. Floating woven screens feature alongside a partition with bands of textile wrapped around a linear framework to create bright blue diamond shapes.
All of the pieces on display were created specifically for the exhibition, marking a break from the duo's usual commercial commissions that have included tiles designed for Mutina and a television with an I-shaped frame for Samsung.
Earlier in the year the brothers unveiled a pair of identical glass and steel units, designed for the International Contemporary Art Fair in Paris.
The 17 Screens exhibition opened on 31 October 2015 and continues until 26 March 2016.
.
.
.
.
.
.
.
source:disupcom
Los hermanos y diseñadores franceses Ronan y Erwan Bouroullec presentan el resultado de un año de investigación y desarrollo en torno a los materiales en la instalación 17 screens o "17 pantallas", que se exhibe actualmente (hasta fines de marzo 2016) en el Museo de Arte de Tel Aviv en Israel. Se trata de las pocas veces que los hermanos han producido un trabajo de manera independiente sin un encargo con una búsqueda formal obligada habiéndose concebido como una instalación para museo desde el principio.
La instalación incorpora secuencias entrelazadas de elementos modulares, unidos por articulaciones desarrolladas de forma única y sistemas colgantes combinando métodos de producción artesanal con tecnologías avanzadas. Dibujos en acuarela se tradujeron en un conjunto de unidades interrelacionadas, con superficies que crean un juego de luz y color que responden a las cambiantes condiciones ambientales. A través del uso de cerámica, aluminio, vidrio, palos de madera y textil, las pantallas aparecen como tabiques móviles que permiten una tipología espacial más flexible.
.
.
.
.
.
.
.
source:intramurosfr
Ronan et Erwan Bouroullec présentent l'installation "17 screens" au Musée de Tel Aviv : 17 systèmes de cloisons réalisés avec différents modules.
Les designers français Ronan et Erwan Bouroullec présentent l'installation "17 screens" au Musée de Tel Aviv : 17 systèmes de cloisons réalisés avec différents modules en céramique, aluminium, verre ou textile. Lumière, couleurs et superpositions créent une richesse de trames et invitent à la déambulation. L'animation graphique "Vegetal" fait prendre conscience au visiteur de l'importance de la nature dans le travail des deux designers et comment le développement d'un arbre peut inspirer la création d'une chaise.
Sarah Mineraud
INFORMATIONS PRATIQUES
Dates
Du 16/12/2015 14:58 au 25/01/2016 15:34
Lieu :
Sderot Sha'ul HaMelech 27, Tel Aviv-Yafo, Israël
.
.
.
.
.
.
.
source:artdailycc
TEL AVIV.- Designers Ronan (b. 1971) and Erwan (b. 1976) Bouroullec have been working together for over 20 years now. The French duo of designers derives its approach from observing different situation of daily life, both indoors and out in the open – work environments, urban areas and nature – which they reinterpret into new spatial states and conceptions. Their childhood landscapes remain an enduring inspiration for them, with views such as the pastures of Bretagne by the Atlantic Ocean or moss tangled up in the barks of trees ingrained in their imaginative psyche as organic formations of interweaved growth, shapes that they translate into a lightweight architecture of modular and transportable pieces in a malleable typology.
Many of the furniture pieces realized by the Bouroullec brothers also double as space definers, which unlike fixed walls can be altered and moved around. The scope of their work arguably reflects the evolution in the typology of living spaces in recent decades: the change in spatial hierarchies and designations as private studies tend to gradually disappear and circulation in spaces assumes a more complex dimension, which provokes, in turn, a growing need for intimate areas within shared spaces.
17 Screens resulted from a year-long research into the possible affinities among different disciplines of arts, crafts, materials, novel techniques and methods of traditional craftsmanship. Unlike their previous projects, where the Bouroullec brothers responded to commissions from manufacturers, the museum installation shown here has evolved independently from the demands of a predetermined product.
The work process involved working from drawings which, with the help of various craftsmen, specialized textile labs and textile makers, were translated into woven suspended grids that are positioned along free-form compositions of threaded ceramic cylinders and glass tubes in varying widths, part of which recall lab test tubes. Along these are hanging compositions made of anodized aluminum elements and a mesh of interwoven twigs, with the whole held together by elastic bands and plastic joints devised especially for the project.
The resulting sensorial view of overlapping tactile elements, seen here for the first time, activates the space in a web of uniquely-made prototypes that manage to convey a human touch.
The Brothers Bouroullec have worked for leading design companies, among them Vitra, Magis, Established and Sons, Ligne Roset, Alessi, Cappelini, Matiazzi, Flos, Kvadrat, and Glas Italia. In recent years, their work was featured in two comprehensive exhibitions, at the Pompidou Center in Metz in 2011, and at the Musée des Arts Décoratifs in Paris in 2013.