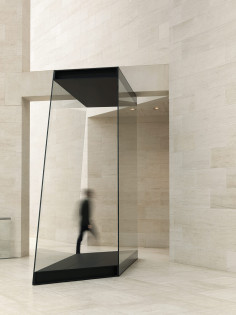 source: bombmagazineorg
We live in the age of the museum. Thousands have opened in the US and around the world since 2000, and visitors have answered their call, flocking to them for everything from exhibitions to lectures to children's sleepover parties. Often architectural wonders in their own right, museums today are no longer musty storehouses of the past, but public venues where private dreams intersect with public life. It shouldn't surprise us, therefore, that they have come under increasing artistic and critical scrutiny. The old opposition between the "white cube" and the "black box" feels obsolete, even as the exhibition space's importance as a subject of artistic and critical investigation continues to grow. One such investigation, by Sarah Oppenheimer, an artist who has long worked with built environments, and, in particular, the spatial organization of the museum, takes place this fall at the Pérez Art Museum Miami. This interview began as a conversation between Oppenheimer and media theorist Alexander Galloway held at the Center for Curatorial Studies at Bard College in April 2016.
—Saul Anton
Alexander Galloway I'd love to begin with the fundamental question of space in architecture. I was struck, listening to a lecture you gave recently, by your discussion of the acts of dividing and splitting space. You establish boundaries within and between spaces that do not take the form of a grid or a rigid, regular structure. Tell us how you have gone about this in recent projects.
Sarah Oppenheimer You're pointing to a very common trend in contemporary architecture: a lack of fixed subdivision. Spatial zones are defined but not divided, and flow is encouraged between zones. More traditional ways of design tended to produce discrete, divided spaces. Nineteenth-century museums such as the Metropolitan Museum of Art in New York or the National Gallery in London direct visitors through discrete galleries along a fixed path. They have fixed walls that do not get torn down and reconfigured for every new exhibition. Visitors move through isolated, specific and, sometimes, dead-end rooms, and there's a processional quality to the experience. By contrast, Frank Gehry's Bilbao, or Marcel Breuer's former Whitney Museum of American Art [now the Met Breuer], or Renzo Piano's new downtown Whitney building, have open, cavernous, and infinitely flexible zones. SANAA's 21st Century Museum in Kanazawa, Japan emphasizes undirected navigation through an open plan. But in order to make this open-plan function, a tremendous amount of dividing happens. Partitions are concealed, so you don't notice lighting systems or the air conditioning. You don't see the maintenance or storage areas, or how artworks travel between storage and exhibition spaces. What appears to be open space is often the result of an architectural sleight of hand. Boundaries create the illusion of openness, transforming the chaos of undifferentiated space into a discrete, empty whole.
.
.
.
.
.
.
.
source: collabcubed
NYC-based artist Sarah Oppenheimer's work blurs the line between sculpture and architecture. Her amazing installations usually involve moving walls, slanting floors, and creating apertures—sometimes symmetric, sometimes asymmetric, and often with mirrors—that would mesmerize (and confuse) the most resistant of gallery/museum guests. Much in the way James Turrell or Doug Wheeler can create spatial confusion with light, and Richard Serra can take over a space with his torques, Oppenheimer makes the gallery itself—and the experience of walking through it—the art. All her works are identified by letters and numbers such as D-33 (second photo from top) making them all the more abstract. Each work is meticulously planned with mechanical drawings and engineered load tests, then executed with precision. I can't wait to see one of these in person.
.
.
.
.
.
.
.
source: artyaleedu
Ms. Oppenheimer is an artist engaged with the boundary conditions of spatial adjacency. She received a B.A. from Brown University in 1995 and an M.F.A. in painting from Yale University in 1999. Upcoming solo projects include 33-D, a double threshold at at Kunsthaus Baselland and a solo exhibition at MassMoCA. Recent projects include W-12302, an architecturally embedded permanent commission at the Baltimore Museum of Art (2012). Her work has been exhibited at venues including the Warhol Museum, Pittsburgh PA (2012), the Museum of Contemporary Art, San Diego (2009), Art Unlimited, Art Basel (2009), Skulpturens Hus (Stockholm), the Saint Louis Art Museum, the Mattress Factory, the Drawing Center and the Sculpture Center. She is the recipient of a Rome Prize Fellowship 2011-12, a Louis Comfort Tiffany Foundation Fellowship 2009, a Guggenheim Foundation Fellowship 2007, an American Academy of Arts and Letters Award in Art 2007, and a Rema Hort Mann Foundation Fellowship 2003. Ms. Oppenheimer joined the Yale faculty in 2003 and was appointed critic in painting/printmaking in 2005.
.
.
.
.
.
.
.
source: grahamfoundationorg
Sarah Oppenheimer received a BA in Semiotics from Brown University in 1995 and a MFA in painting from Yale University in 1999, where she is currently a critic in the School of Art. Her work has been exhibited in Europe and in the United States at venues including the Saint Louis Art Museum, Missouri; the Museum of Contemporary Art, San Diego, California; the Queens Museum of Art, New York; the Mattress Factory, Pittsburgh, Pennsylvania; the Drawing Center, New York; and Skulpturens Hus, Stockholm, Sweden. She is the recipient of numerous awards including the 2010−11 Gilmore D. Clarke/Michael Rapuano Rome Prize, the New York Foundation for the Arts (NYFA) Fellowships in Architecture/Environmental Structures (2010, 2006), the Louis Comfort Tiffany Foundation Fellowship (2009), the American Academy of Arts and Letters Award in Art (2007), and the John Simon Guggenheim Memorial Foundation Fellowship (2007). Sarah Oppenheimer was born in Austin, Texas; she lives in New York.